Tat's Off For Drew! Barrymore's Having Her Tattoos Removed!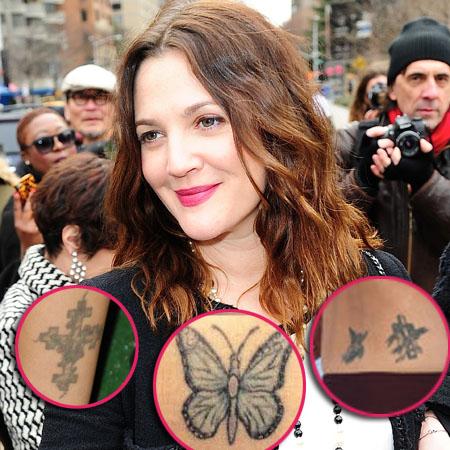 Drew Barrymore is deciding to ditch her varied and plentiful body ink because of her husband's religion, Star magazine is exclusively reporting.
The 38-year-old Charlie's Angels star is converting to her other half, Will Kopelman's Jewish faith, but in order for her to be buried in a traditional Jewish cemetery she has to be tattoo-free.
According to Star, Drew recently started undergoing painful laser surgery to erase the six tattoos she got during her wild child years.
Article continues below advertisement
They include a bouquet of flowers on her hip, a butterfly on her stomach, a crescent moon on her toe, a cross on her leg and two angels on her lower back.
"Drew also wants to be a Santa Barbara mom, and tattoos clash with that wardrobe," her pal tells Star.
"She's growing up and turning conservative."
For more on this story pick up the latest issue of Star magazine -- on newsstands Thursday.