Take That Oscar! Ben Affleck & Argo Steal The Show At BAFTAS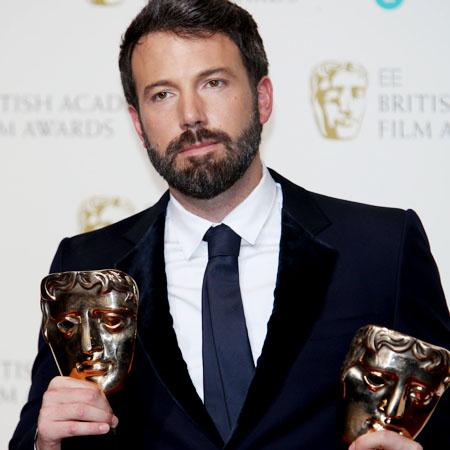 He may have been snubbed by Oscar for Best Director, but Ben Affleck continues getting his sweet revenge. Sunday night in a snowy London, his political thriller Argo stole the show in the major categories at the British Academy Film Awards, also known as the BAFTAs.
Although Affleck didn't win Best Actor, he did picked up BAFTAs for Best Film and Best Director.
In accepting his awards, Affleck said: "I want to say this is a second act for me and you've given me that. This industry has given me that, and I want to thank you and I'm so grateful and proud."
Article continues below advertisement
Affleck's pal, George Clooney, who co-produced the film about a risky mission to rescue a group of US diplomats from Iran after the 1979 Islamic Revolution, paid tribute to the director, saying: "You're smart and you know what you want but more important, you love what you're doing."
"I feel like there must be some mistake," Affleck later told CNN. "It's really thrilling. I mean I've never been to the BAFTAs before, I've never been nominated before, never even been invited before, nothing. So I feel like I am sneaking in under the gate. I'm just thrilled."
Daniel Day-Lewis also continued his winning ways – capturing Best Actor for his critically-acclaimed role in Lincoln, making him virtually a shoo-in for Oscar gold.
At 85, Emmanuelle Riva made history by becoming the oldest person to win a BAFTA for her lead role in the critically-acclaimed French film Amour. She did not, however, attend the ceremonies. (Amour also won best foreign language film.)
Christoph Waltz and Anne Hathaway both won supporting acting honors for their respective roles in Django Unchained and Les Miserables – also making them likely Oscar winners later this month.
Waltz said his victory was entirely due to director/writer Quentin Tarantino, who he referred to as "you silver-penned devil, you".
Skyfall won for outstanding British film, and director Sam Mendes paid tribute to the "bravery and brilliance" of Daniel Craig and "the great" Ian Fleming, who created James Bond.
The winners were chosen by members of the British Academy of Film and Television Arts.