Exclusive
Baltimore Ravens Star Ray Lewis Offered Endorsement Deal Following Deer Antler Scandal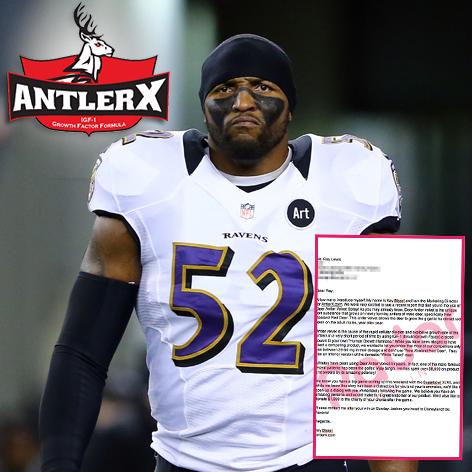 Baltimore Ravens linebacker Ray Lewis has denied the recent report that he used deer antler spray to speed along the recovery of an injury, but whether he did or didn't use the product, RadarOnline.com has obtained an exclusive endorsement offer for the Super Bowl-bound footballer from AntlerX.
On Tuesday Sports Illustrated reported that Mitch Ross, owner of Sports With Alternatives To Steroids (SWATS), recorded a phone call with Lewis in October after he hurt his arm in a game against Dallas in which the Ravens player asked Ross to send him deer antler spray and pills.
Article continues below advertisement
Lewis, 37, denied the allegations on Wednesday and called Ross a coward with "no credibility."
EXCLUSIVE DOCUMENT: Baltimore Raven Ray Lewis Offered Deer Antler Spray Endorsement
However, AntlerX marketing director Kay Bissel believes Lewis would be the perfect endorser of their product and has even offered an extra $1,000 to go to his charity of choice after the Super Bowl game on Sunday.
"We were very excited to see a recent report that tied you to the use of Deer Antler Velvet Spray!" the offer letter states.
"While you have been alleged to have used a competing product, we wanted to let you know that most of our competitors only use between 25-50 mg in their dosage and don't use 'New Zealand Red Deer.' They use an inferior version of the domestic 'White Tailed' deer."
Not only does Bissel rattle off the benefits of using deer antler spray, but she brings up pro golfer Vijay Singh as being a user of the product.
Article continues below advertisement
"Athletes have been using Deer Antler Velvet for years. In fact, one of the more famous recent patients has been the golfer, Vijay Singh," the letter states.
"He has spent over $9,000 on product and swears by its amazing potency!"
Singh admitted to using the spray but maintains that he didn't know it contained banned substances.
"While I have used deer antler spray, at no time was I aware that it may contain a substance that is banned under the PGA Tour Anti-Doping Policy," he said on Wednesday.
But AntlerX remains steadfast in their quest have Lewis endorse their product.
"We know you have a big game coming up this weekend with the Superbowl XLVII, and while we know this story has been a distraction for you and your teammates, we'd like to open up a dialog with you immediately following the game," the offer letter says.
"We believe you have an amazing persona and would make for a great endorser of our product."