Rihanna's Fashion Launch Slammed! 'Fright Night At Kmart,' Says Reviewer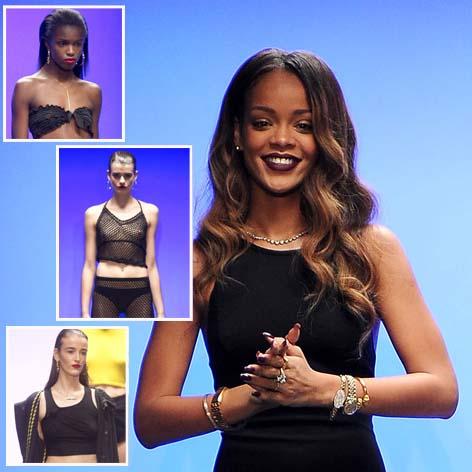 Rihanna's collection for River Island made its debut in London Saturday night, and based on at least one devastatingly bad review, the singer might want to stick to her day job.
It was "a horror show," Tom Sykes writes on The Daily Beast.
"The clothes were hideous and without an ounce of panache or style between them," Sykes said, calling the collection "unsurprisingly slutty and yet tiresomely predictable.
Article continues below advertisement
"It was like Fright Night in Kmart."
Making matters worse, Rihanna was an hour late for her collection's London Fashion Week debut.
She did have a few defenders though. The reviewer for Yahoo! called the collection "amazing," and Elle magazine said she "did not disappoint."
And how did Rihanna think the show went? We're not sure she remembers.
After departing the after-party she tweeted, "Just so happens I came home drunk to this in a pile of papers outside my hotel room....."