Former San Diego Mayor, Widow Of Jack-In-The-Box Founder, Gambles Away $1 BILLION Playing Video Poker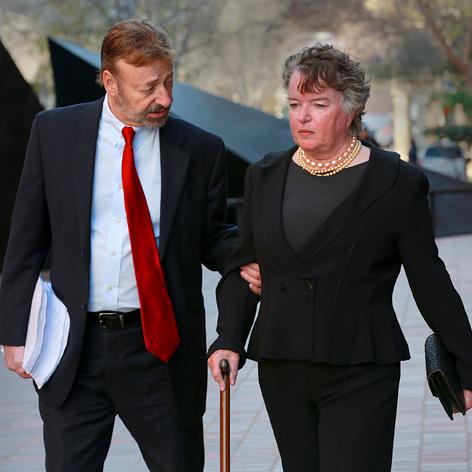 During what can only be described as a gambling binge, former San Diego mayor Maureen O'Connor gambled away $1 billion -- that's billion with a 'B' -- playing video poker in casinos.
O'Connor's husband, Jack-In-The-Box founder Jack Peterson, died in 1994, leaving her between $40 and $50 million, which should have left the widow, now 66, comfortable for the rest of her life.
But she began gambling in 2001, and won over a billion dollars over the years, but her losses were worse, leaving her broke and now somewhere around $13 million in debt.
Article continues below advertisement
Her scandalous addiction came to light when it was uncovered O'Connor had looted a foundation set up by her late husband, taking $2,088,000 from the charitable organization, leaving it bankrupt.
That led to federal charges and a tearful O'Connor, a one time Catholic school teacher who now walks with a cane, in court on Thursday.
Her annual gambling winnings peaked at more than $200 million, revealed Phillip Halpern, an assistant U.S. attorney, during the hearing.
"I always intended to pay it back and I still intend to pay it back," she said.
That may be hard to do. In 2005, O'Connor sold a hotel she owned for $7.5 million. She has three mortgages on her La Jolla, CA home, sold off another home in 2010 for $2.5 million and has sold off her art collection and jewelry.
O'Connor blamed her addiction on "grief," starting with the loss of her husband, then three siblings and two close friends. She also had surgery for a brain tumor in 2011.
Under an agreement with federal prosecutors, she will receive treatment for gambling addiction and has two years repay the money to the foundation, as well as taxes owed to the government.