Massive Crash At Daytona Speedway, Numerous Fans Injured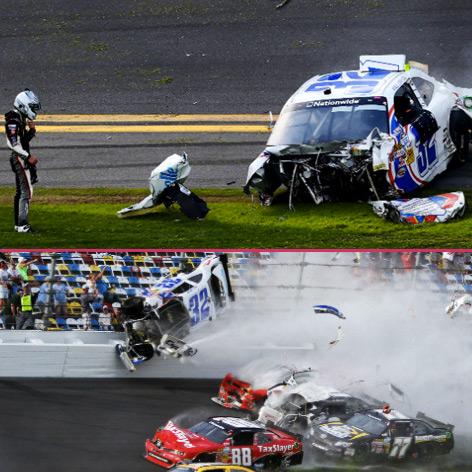 A devastating crash has occurred at the Daytona International Speedway, injuring 28 spectators as debris flew into the stands.
The crash took place near the end of the NASCAR Nationwide Series 300 mile race at the same track where Sunday's Daytona 500 will be held.
Driver Kyle Larson's vehicle ended up flying into a fence that separates the track from spectators. The fence did its job in holding back the car, but the vehicle still broke into pieces, including tires and a fiery engine, that landed in the stands.
Article continues below advertisement
Larson walked away from the crash but numerous spectators have been rushed to local hospitals.
Injured fans can be heard screaming on video from the crash.
Danica Patrick, who will be racing in the Daytona 500 on Sunday, was amid among the racers for the Nationwide but fell out of the race early because of car trouble.
Tony Stewart won the race but did not celebrate in Victory Lane.
"We've always known, and since racing started, this is a dangerous sport. But it's hard. We assume that risk, but it's hard when the fans get caught up in it.
"So as much as we want to celebrate right now and as much as this is a big deal to us, I'm more worried about the drivers and the fans that are in the stands right now because that was ... I could see it all in my mirror, and it didn't look good from where I was at."
youtube