Lindsay Lohan Was 'Psychotic' Says Samantha Ronson's Mom On Why She Broke Up Their Romance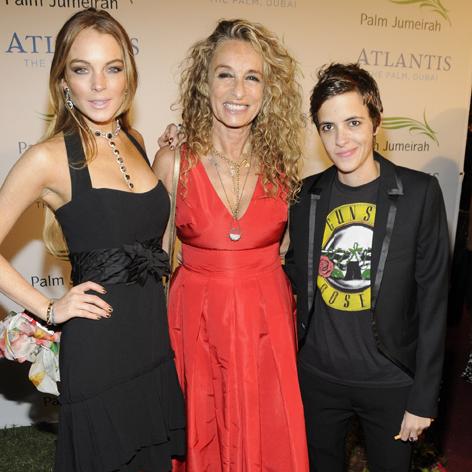 Socialite Ann Dexter-Jones is opening up on why she "interfered" with her daughter Samantha Ronson's romance with Lindsay Lohan.
"I was seriously anxious about Samantha's safety and wellbeing. I feared tragedy," Dexter-Jones told the Daily Mail . "It got to a point that I wasn't sleeping very well."
The breaking point for the worried mom was the 2008 party for the opening of the lavish hotel, The Atlantis, in Dubai.
Article continues below advertisement
Ron had been hired to DJ the grand opening party and brought LiLo with her.
"Suddenly, without any warning, Lindsay flung herself on to the thick carpet and started to roll around screaming like a child," said Ann, recalling the bizarre scene.
"It seemed she was upset that people, including Samantha, were not paying her enough attention.
"To my mind, it was classic psychotic behaviour. I took Lindsay aside and told her not to make a spectacle of herself. She was clearly out of control and spoiling for a fight."
The next morning, Anne, who was once married to Foreigner's Mick Jones, faced down her daughter and Lohan.
"I told them I could no longer support them as a couple. I no longer approved on them being together and that Lindsay was no longer welcome in my home," Anne told The Mail.
Dexter-Jones, who is now a successful jewelry designer, revealed that Samantha did not take the tongue lashing well, but her relationship with Lilo ended not long after.
"I saw how much pain my daughter was in and the she was suffering deeply. She is a very Zen person and not used to the kind of turmoil that Lindsay seems to thrive on," said Dexter-Jones who has not seen Lohan in the years since.