Victim Of Fiery Las Vegas Crash Was Much Beloved Breast Cancer Survivor, Mom Of Three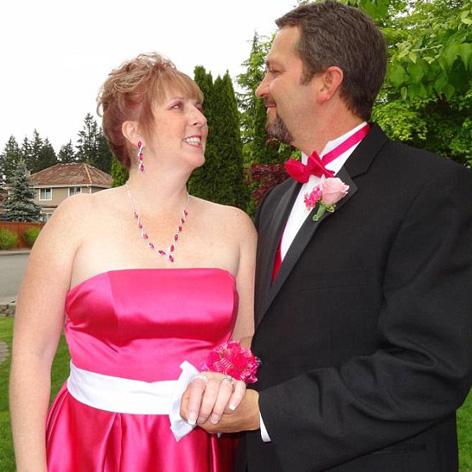 "Everyone deserves a lifetime," wrote Sandi Sutton-Wasmund about why she -- a two-time breast cancer survivor -- continued to campaign for an end to the disease.
On Friday Sutton-Wasmund was identified as the third and final victim of Thursday's bizarre incident in Las Vegas, where a driver was shot and then crashed his Maserati into a taxi causing an immediate and lethal fireball.
Sutton-Wasmund was a married mom to three teens, and a beloved face in her community of Maple Valley, Washington.
Article continues below advertisement
The 48-year-old woman was in Vegas with her business partner, attending a trade show to buy clothing for their boutique The Dazzled Dame. She also worked for her local Chamber of Commerce.
"She was the heart and soul of our community," Sue VanRuff, the Executive Director of the Maple Valley Black Diamond Chamber of Commerce told Seattle's King5.
"She was a great teammate and could always be counted on to help," added her friend Kevin Patterson in describing Sutton-Wasmund's frequent volunteer efforts.
It was Sutton-Wasmund's tireless work on behalf of ending breast cancer that truly set her apart, according to her many friends and her family.
She lost her mother and an older sister to the disease and another sister is currently battling it. Writing about why she recently participated in a three-day breast cancer walk, she said, "Because Everyone Deserves a Lifetime. Especially my daughter and all our families that we love and want to have with us forever. We can only Pray that this family is done!'
Article continues below advertisement
Sutton-Wasmund was in a taxi being driven by Michael Bolden at 4:20 am Thursday when the vehicle was one of six cars struck by rapper Kenneth Cherry.
He'd been seen engaged in some sort of verbal altercation in front of the Aria Resort & Casino before getting into his Maserati. Moments later, someone in a black Range Rover opened fire on him, and in an apparent effort to outrun the bullets, he sped through a red light. That's when Cherry -- who also died in the resulting fireball -- slammed into Bolden's cab.
Cops are still searching for who opened fire on Cherry, and late Friday, Sutton-Wasmund's devastated husband James and their three children, issued a statement:
"On behalf of Sandi's family, Sandi was a loving wife, mother, daughter and sister. Her innocent and tragic loss will be felt by all of those who knew and loved her and by the community at large. Her family appreciates the outpouring of love and support, and respect for privacy shown throughout this very difficult time."