Lady Gaga Can't Walk, Forced To Cancel Three Upcoming Concerts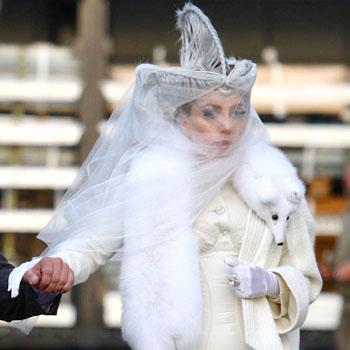 Lady Gaga has dropped a bombshell on her fans – she says she can't walk due to a condition called synovitis, a severe inflammation of the joints, and therefore she's been forced to cancel three of her upcoming concerts on her Born This Way Ball tour.
The 26-year-old Telephone singer -- tweeting to her more than 35 million followers on Tuesday -- wrote: "I've been hiding a show injury and chronic pain for some time now. Over the past month it has worsened. I've been praying it would heal... I hid it from my staff, I didn't want to disappoint my amazing fans. However after last night's performance I could not walk and still can't."
Article continues below advertisement
Gaga -- whose real name is Stefani Germanotta -- also offered an apology to her Little Monsters, adding: To the fans in Chicago, Detroit and Hamilton, I hope you can forgive me as it is nearly impossible for me to forgive myself. I'm devastated & sad."
She added: "It will hopefully heal as soon as possible, I hate this. I hate this so much. I love you and I'm sorry."
In addition to Hamilton, Ontario, there are 14 more cities on the Born This Way Ball tour, which is scheduled to wrap up in Tulsa, Oklahoma on March 20.
Fans are being told to hold onto tickets, as the concerts will be rescheduled.