So Why Was Kristen Stewart Limping At The Oscars?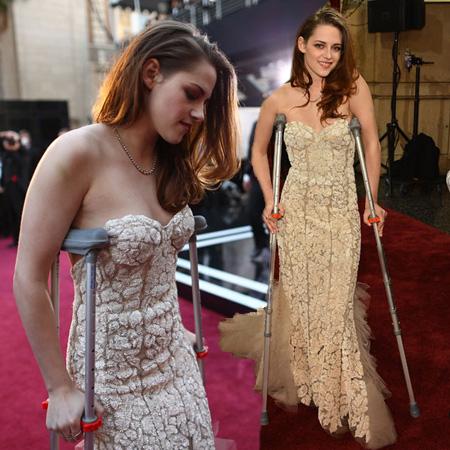 Kristen Stewart didn't let an injury stop her from attending Sunday's Oscars, as the broody beauty used crutches on the red carpet and was noticeably limping during her presentation segment with Daniel Radcliffe.
The 23-year-old, who wore a Reem Acra gown to Hollywood's grandest event, rebuffed The Harry Potter star's attempt to give her a helping hand on the stage.
The star's makeup artist Beau Nelson told People Kristen "cut the ball of her foot, quite severely, on glass two days ago."
Article continues below advertisement
David Spade and Joel McHale were among the tweeters who noticed Kristen's limp: Spade tweeted: "Kristen stewart are you ok? And by that I mean where were the hash brownies before u got hit by bus #bruise #limp."
"Kristen Stewart is limping because she sprained her ankle from being excessively disinterested," McHale wrote.
Watch the video on RadarOnline.com