Not Tardy Losing The Baby Weight! Kim Zolciak Flaunts Weight Loss In Sexy Swimsuit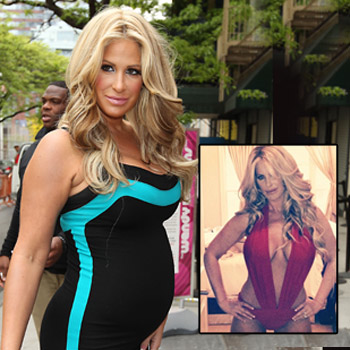 Talk about a real hot mama!
Real Housewives of Atlanta star Kim Zolciak, who gave birth to her second child with husband Kroy Biermann in August 2012, flaunted her positively smokin' hot post-preggers body on Twitter this week – and RadarOnline.com has the photo.
Wearing a scandalously sexy, low cut monokini that barely covered up her amazingly large assets, the mother of four, who recently dropped a massive amount of her baby weight, showed off her bombshell bod with her fans.
Article continues below advertisement
"Omg I'm obsessed with have faith swimsuits," the 34-year-old captioned the Instagram image.
Zolciak's followers had mixed feelings about the incredibly sexy swimsuit.
"So classless," slammed Shelby P Morrison. "I'm sorry, but have a little self worth. I would never want my kids to see me look like that. And no? I don't wear granny swimsuits, but I make sure my goodies are nice and secure. This just shows she isn't happy with herself and she feels the need to have attention for self affirmation. So sad."
But Amanda N Jarrod bounced back at Kim's hater.
"@shelbypmorrison you go right ahead & keep your goodies nice & secure, meanwhile I believe the majority agree, if we all had bodies like that after 4 kids....hell that suit is all I'd ever wear at all times.....don't hate & as we say in the south (to make it easier to swallow) bless your jealous lil heart," she spat.
What do you think about Kim's sexy suit? Sound off below.