Kim Kardashian Doesn't Let Pregnancy Stop Her From Wearing High Heels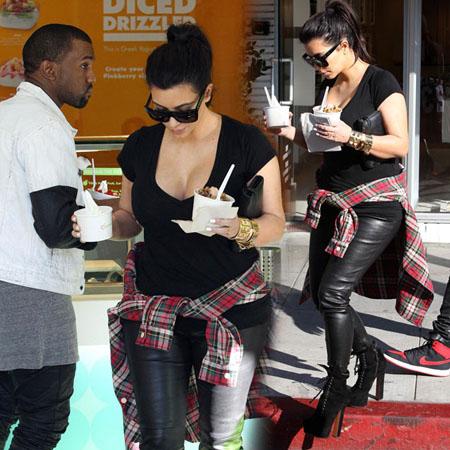 Back from their trip to Brazil, expectant parents Kim Kardashian and Kanye West grabbed a bite at Pinkberry while running errands in sunny Beverly Hills Tuesday, and we've got the shots for you right here on RadarOnline.com.
The 32-year-old put a new twist on the phrase "maternity wear," pairing leather pants with suede high-heel boots and a flannel shirt tied around her waist.
The mom-to-be, who's due this summer, showed off ample cleavage with a low-cut V-neck black top.
Article continues below advertisement
Kanye, who won three Grammys (best rap performance, best rap/sung collaboration, best rap song) over the weekend, wore leather pants, a grey shirt and a white top with a big gold chain.
As we previously reported, Kim said the superstar couple claim they do not plan to trot out their baby before the cameras.
"When he or she decides that's what they want to do," Kim told Jimmy Kimmel last month, "then that will be a decision.
"It's a tough decision … from the start, as of now, that's just a personal choice that Kanye and I have made -- we're going to try to keep it as private as possible."