Kendra Wilkinson Showers With Her 3-Year-Old Son, Says 'Everybody Has Boobs!'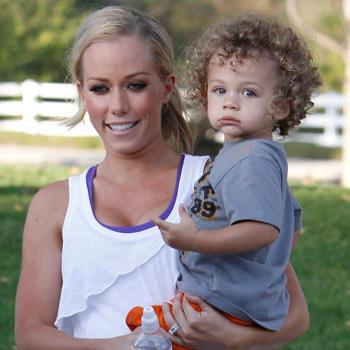 Former Playboy Playmate Kendra Wilkinson is proud of her body — so proud in fact, that she still showers and bathes with her three-year-old son, RadarOnline.com is reporting.
Earlier this month, it was revealed that Hank Jr. had discovered Kendra's racy Playboy photos, and when she was asked about it during an interview with Big Poppa in the Morning on KISS-FM in New York, she added fuel to the fire by saying her son sees her naked body all the time.
Article continues below advertisement
"I mean, come on, I take showers with my son. I take baths with my son. We are fine. Everybody has boobs," Kendra said on the show Monday morning.
"We're all human, and I look at that side of things. I have a humor side. I have a very strong humor side, and of course people see that as very serious, but I'm not serious at all. It's a very funny thing, and we're all gonna survive."
Listen To Kendra Wilkinson On Big Poppa in the Morning
And Kendra's advice to other parents? Nothing wrong with a little boob!
"Don't worry, don't panic! If your kid sees boobs, it's okay," she said.
"Don't be scared, just explain to them we all have boobs!"
What do you think about Kendra bathing with her son — inappropriate or perfectly normal? Sound off below!