Kate Gosselin Thanks Hackers On Her Twitter Page For Becoming Her Cyber Bodyguards!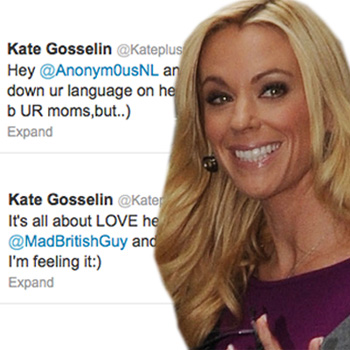 Kate Gosselin has turned to the most unlikely protectors for help in dealing with her on-line critics-- alleged hackers!
The mother-of-eight shared a little cyber love on Valentines day with Mad British Guy and Anonym0usNL, who claimed they had hacked the reality star's critics and haters.
Gosselin tweeted Thursday: "It's all about LOVE here today, (&everyday now) thanks to @MadBritishGuy and @Anonym0usNL !! Bring on the love,
Article continues below advertisement
everyone! I'm feeling it:)"
Mad British Guy's Twitter profile says he is a "DOX Master," which is Internet slang for outing personal information such as names, addresses, credit card and social security numbers, and then posting them online, Examiner.com writer Jessica Carlson revealed.
Anonym0usNL seemed pleased with Kate's show of support and responded: "Have a very nice day <3 And if needed we you can contact us anytime."
But not everyone liked the idea of the 37-year-old reality star mingling on-line with alleged lawbreakers.
After getting a little heat from some of her 129,000 followers, Kate later tweeted her hacker friends asking them to tone down the tough talk.
Reported Carlson, Kate then wrote, "Hey @Anonym0usNL and @MadBritishGuy love u but can u tone down ur language on here 4 me,my crowd of moms&kids?(not trying 2 b UR moms,but..)."