Jennifer Lawrence's Sexy Playbook! Independent Spirit Awards Winner Almost Comes Undone In Eye Popping Dress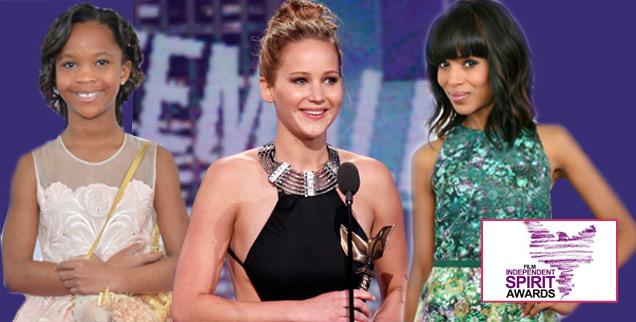 Jennifer Lawrence showed her independent fashion spirit once again at an awards show -- almost popping out of her racy dress before taking home the best actress prize.
On Saturday, the Silver Linings Playbook star thrilled photographers when she showed up at the Independent Spirit Awards on Santa Monica Beach wearing a racy black halterneck gown with no bra, a daring strap tie in the back, and a short, asymmetrical front that exposed her knees. Eyewitnesses said as she posed for photographers, Jennifer double checked that the straps on the Lanvin dress were holding together. "I don't want anything coming undone," she laughed.
Article continues below advertisement
It's not the first time Jennifer has chosen a daring and complicated dress. Her strapless Christian Dior SAG Awards gown caused chatter earlier this year when it appeared to come apart as she walked to the stage to accept the best actress award. But Jennifer later explained that was the way it was supposed to look and there was no wardrobe malfunction!
Luckily, there wasn't one this time, either, and Jennifer put a jacket over her black dress when things got chilly on the beach.
Jennifer walked away with the best actress prize at the awards show that honors independent films, and her movie Silver Linings Playbook won best feature and best director, David O. Russell.
Matthew McConaughey won best supporting actor for Magic Mike and Helen Hunt best supporting actress for The Sessions. Jennifer's Silver Linings co-star, Bradley Cooper, lost out to John Hawkes (The Sessions) for best actor.
But if there were an award for cutest actress, child star Quvenzhane Wallis would have surely taken home the prize! The little actress from Beasts of the Southern Wild, who vies for an Oscar tomorrow, dressed to impress at the Independent Spirit in a ladylike pink gown.