'I Find It Sickening' – Howard Stern Defends Kelly Clarkson Against Clive Davis Taking Credit For Her Work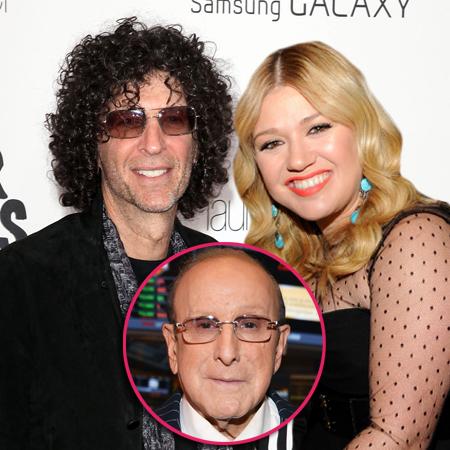 Count Howard Stern as an official member of Team Clarkson, as the battle between Kelly and music mogul Clive Davis continues to rage over comments he made in his memoir.
In his just-released book, The Soundtrack Of My Life, Davis claims he had a meeting with Clarkson in which "Kelly burst into hysterical sobbing" when he demanded that her song Since You Been Gone would be put on her 2004 album, Breakaway. (The song turned out to be a hit.)
Article continues below advertisement
But Kelly claims that version of events never happened, saying she fought for the song to be redone with a bigger sound, and won that battle. Now Stern has used his powerful radio show to defend her.
"I always find it sickening when management guys like to set the record straight about how f--king creative and what geniuses they are," Stern said.
Not holding back, per usual, Stern continued: "And, like, this guy's trying to diminish what she does? Doesn't he have enough in life? Can't he sort of tell his story without f***ing degrading her and putting her down?
"I think she has an amazing voice, and the girl has worked hard to get to where she is.
"I don't understand Clive Davis' motivation for knocking this chick down."
After Davis' version of events became public, Clarkson posted a lengthy rebuttal on the Web, writing in part: "So I just heard Clive Davis is releasing a memoir and spreading false information about me and my music. I refuse to be bullied and I just have to clear up his memory lapses and misinformation for myself and for my fans. It feels like a violation.
Article continues below advertisement
"First, he says I burst into "hysterical sobbing" in his office when he demanded Since You Been Gone be on my album. Not true at all. His stories and songs are mixed up."
She went on to describe how she did cry after she played the song Because of You and Davis hated it and called her a lousy writer. The song became a huge hit.
Davis responded with a statement standing by what he wrote and claiming he fact checked everything with "five independent individuals who were present on a daily basis through it all."
And while he has not backed down, it's clear that with Stern entering the arena, the war of the words isn't over.