Hilary Duff Struggling To Get Back Into Working, Not Trying For Another Baby Anytime Soon!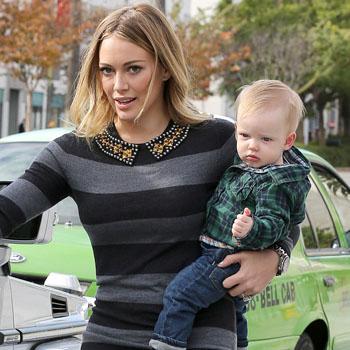 Hilary Duff, after giving birth to her son Luca Cruz Comrie nearly a year ago, says she's slowly getting reacquainted with the Hollywood grind -- though reentering the work field as a mom has its challenges.
"It's hard to be away from Luca," Hilary tells this week's Life & Style . "I did a guest spot on Raising Hope … I was so happy to be on a set again … but it was hard.
"I also had a day of thinking, 'I need to get home -- What am I doing away from my baby'?
Article continues below advertisement
"It took a few months for me to be like, 'Okay, this is me now, this is who I am now, this is how I do things now.'
"Honestly, it's such an adjustment," the 25-year-old Houston, Texas native admits, adding, "I'm not trying to have another baby any time soon!"
The Lizzie McGuire star married the baby's father, retired NHL journeyman Mike Comrie, August 14, 2010 in Santa Barbara, Calif.