Deborah Norville's Comforting Words To Ann Curry: 'I Am Living, Breathing Proof You Can Survive' TODAY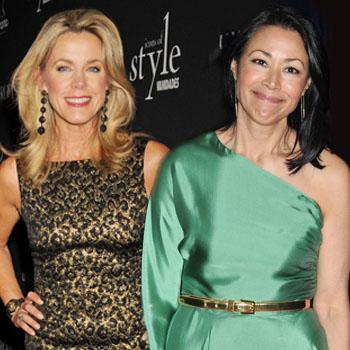 As someone who's 'been there, done that,' Deborah Norville feels Ann Curry's pain, as she too was unceremoniously ousted from the TODAY show after her own short stint as co-host more than twenty years ago.
Norville – who next month will mark her 18th year as anchor of the nationally syndicated magazine show Inside Edition – replaced the popular Jane Pauley on TODAY in 1990, but weak ratings prompted NBC to can Norville and give perky Katie Couric the coveted job only a year later.
Article continues below advertisement
In an interview with the Orlando Sentinel, Norville, 54, had some words of comfort and even some advice for Curry, who was replaced by Savannah Guthrie last summer in a move that ended up damaging the once wildly successful NBC morning program, causing it to slip to second place behind rival Good Morning America.
"I hope Ann is able to look at all the things that are good in her life," Norville told the Orlando Sentinel.
"The 'Today' thing was screwed up. I am living, breathing proof you can survive. For anyone who feels their dream situation turned out to be a nightmare, my advice, and who better than I, is focus on the good things that have happened in your past. Focus on things that happen today that you are grateful for."
Although her stint on TODAY was brief, Norville has a simple explanation for her longevity on Inside Edition.
MORE ON:
Good Morning America
Article continues below advertisement
"I don't pick fights," she said. "I think I'm pretty low maintenance. I try not to act like anyone other than a member of the team."
Norville is currently working on a book to commemorate Inside Edition's 25th anniversary on the air.
"Nobody asked me to do it. I volunteered," she said. "I said, 'Are you going to let this milestone go unmarked?' I and one producer are writing 25 years of history on the show's look at pop culture."
The book is due to be released next year.