Exclusive
That's Not The Babysitter! Adrienne Maloof Furious With Ex Paul Nassif For Dating Young Beauty & Lying About It!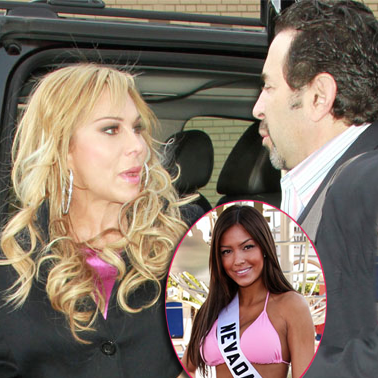 Article continues below advertisement
"Paul is dating Helen Salas and she's been living in his $10,000 a month house with him," a source told RadarOnline.com. "He told Adrienne she was the babysitter, but when she wanted to get a background check done on her, Paul then told her she resigned, but she didn't. This girl isn't the babysitter, she's his girlfriend. She's furious with him."
As Life & Style magazine reported, Adrienne felt "completely duped" by Paul, but she suspected for some time that he had a girlfriend.
"While they were still together, Paul would go to Vegas and go off the radar, not answering phone calls," the friend tells Life & Style, adding, "Adrienne would hear from friends that he was partying with a girl, but she couldn't believe he would do that, even though she knew things weren't going well in their relationship."
A source close to Adrienne told RadarOnline.com that she is "disappointed with Paul," for dating the Miss Nevada USA and lying to her.
"She doesn't care if he is dating someone else now but she doesn't like that he lied to her. All she wanted to do was protect her children and make sure they are safe with the people around them."