Exclusive
Feds Don't Rule Out Prosecuting Lance Armstrong Over Doping Admission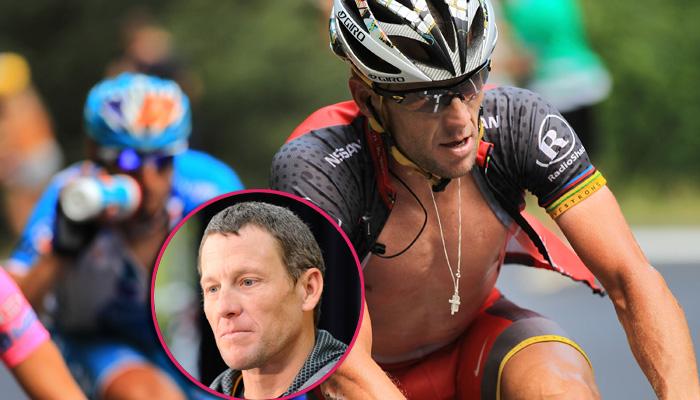 Will disgraced cyclist Lance Armstrong face criminal charges after he reportedly admitted to doping during a televised interview?
Armstrong taped the interview with OWN Monday at a hotel in Austin, Texas, and it's set to air Thursday evening.
The cancer survivor, per the AP, admits and apologizes for his use of performance-enhancing drugs during his illustrious cycling career, highlighted by seven wins in the Tour de France. Prior to taping the interview Monday, the Texas native apologized to 100 workers of his former cancer charity, Livestrong, in an emotional 20-minute speech Livestrong spokeswoman Katherine McLane described as "heartfelt and sincere."
Article continues below advertisement
As RadarOnline.com has been reporting, Armstrong has long denied doping, even as the U.S. Anti-Doping Agency issued a scathing 1,000-page report chronicling his years of drug use and strong-arm tactics to get others on his U.S. Postal Service team to do the same.
Federal prosecutors in Los Angeles announced last year that after a two-year investigation into Armstrong and his cycling teammates, they closed the investigation without filing any charges. Armstrong was being investigated for drug trafficking, money laundering, defrauding the government.
A spokesperson for the United States Attorney's Office in Los Angeles tells RadarOnline.com, "We're not commenting on Lance."
The Livestrong founder has been stripped of his seven Tour de France titled, is banned from competing in any sport covered by the USADA, has lost all his sponsors, and has resigned from Livestrong, the charity he founded to help fight cancer.
The admission is reportedly a last-ditch effort to be allowed to compete in non-cycling spots; Armstrong is worth allegedly worth $100 million dollars because of lucrative sponsorship deals throughout his salad days.
Article continues below advertisement
According to ABC News Sheryl Crow's ex-boyfriend is "now talking with authorities about paying back some of the US Postal Service money from sponsoring his team.
"He is also talking to authorities about confessing and naming names, giving up others involved in illegal doping. This could result in a reduction of his lifetime ban, according to the source, if Armstrong provides substantial and meaningful information."
Famed criminal defense attorney, Mark Geragos, who isn't involved in the case told us, "I am sure Lance's lawyer has vetted this and doesn't see any criminal exposure.
"I am sure they are concerned now with the foundation going forward and need to get past all this so they can continue to do the good work that they have for the last 10 years."
The Armstrong interview airs on OWN Thursday.