Two New TV Specials Set to Stir Up New Hatred of Casey Anthony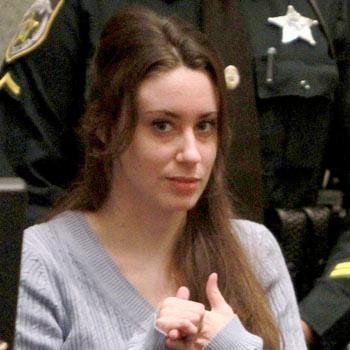 Casey Anthony just can't stay out of the spotlight -- even when she's trying to avoid it!
This month, two TV specials will rehash Anthony's murder trial and they're guaranteed to stir up new emotions. As RadarOnline.com previously reported, Casey was tried and acquitted in 2011 of first degree murder in the death of her daughter Caylee. She was, however, convicted of misdemeanor counts of providing false information to police officers.
Article continues below advertisement
The controversial court case had viewers glued to their TV screens and it will soon be front and center again. On Monday, January 14, the Investigation Discovery series, True Crime With Aphrodite Jones, will examine the case in an episode titled "Casey Anthony: Bella Vita" (beautiful life).
The show will take an in-depth look at the case, plus include reenactments and interviews with some of the key players.
Then on Saturday, January 19, the Lifetime Original Movie, Prosecuting Casey Anthony, starring Rob Lowe will premiere.
Lowe plays Jeff Ashton, the Florida prosecutor in the made-for-TV movie based on the book of the same name that Ashton wrote.
Anthony, who has spent months in hiding, is still considered the most hated woman in America, and the movie could renew negative feelings against her once again.
Jodi Arias, the brunette beauty accused of murdering her devout Mormon boyfriend by shooting him in the face and stabbing him 27 times, before slitting his throat, has murder trial watchers comparing her to Anthony.
RadarOnline.com will continue live streaming the Arias trial when it resumes at 12:30 pm EST Tuesday.