Pippa Middleton's Book Sales Not So Royal! 'Celebrate' Priced At 75 Percent Off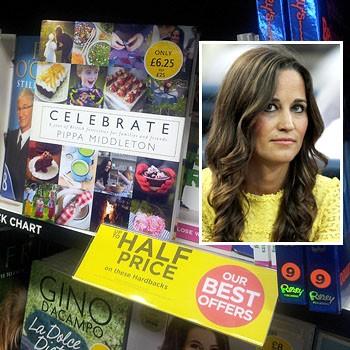 Pippa Middleton's book sales aren't so royal. A U.K. bookstore has slashed the price of her party planning tome by a whopping 75 percent!
Prince William's sister-in-law's hardcover book, Celebrate: A Year of Festivities for Families and Friends, published on October 30, has sold so poorly in England that WHSmith has just reduced the price from $40.63 to $10.16.
In the 400 page book, Middleton gives her secrets to hosting a successful party, which includes recipes, crafts, traditional games, and trivia suitable for each occasion. But reviews have been scathing, with critics poking fun at Pippa's tips for building bonfires and hanging donuts from trees and her obvious suggestions, such as, "ice goes great with drinks" and "a turkey at Christmas time is good for large gatherings."
Article continues below advertisement
One Amazon reviewer declared, "what a waste of dead trees."
Middleton, whose sister Kate is expecting her first child with William, did a European tour last year to promote her book, but sales have still been slow.