Exclusive
Oxygen Defends 'All My Babies' Mamas' Special, Outraged Viewers Want It Canceled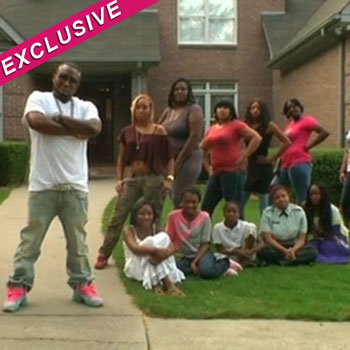 Oxygen is under fire for a yet unaired one-hour special about Atlanta rapper Shawty Lo and his 10 "baby mamas," but the network exclusively tells RadarOnline.com they stand behind their project and it's not stereotypical or demeaning to any one demographic.
A press release distributed by Oxygen in December about All My Babies' Mamas touted the reality special as a look into Shawty Lo's life and the complications of having 11 children with 10 different women - but people were quickly outraged and New York's Sabrina Lamb started a petition on Change.org in an effort to boycott the show because she said it "demeans black children, mothers and dads!"
Article continues below advertisement
"Tell Oxygen that their viewers will not tolerate a show that exploits and stereotypes Black children and families, and we will boycott any advertiser who chooses to support the show," Sabrina wrote, asking for support.
But despite the more than 14,000 signatures Sabrina has gathered on Change.org, Oxygen says the special is still in development and they plan on moving forward with the project.
"Oxygen's one-hour special in development is not meant to be a stereotypical representation of everyday life for any one demographic or cross section of society. It is a look at one unique family and their complicated, intertwined life," Oxygen Media tells RadarOnline.com exclusively.
"Oxygen Media's diverse team of creative executives will continue developing the show with this point of view."
Because the project is still in development, an air date has yet to be determined.
Do you think Oxygen is crossing the line with this reality show, or is the public over-reacting? Sound off below...