Oscar History: One Best Actress Nominee Is Only 9, Another Is 85!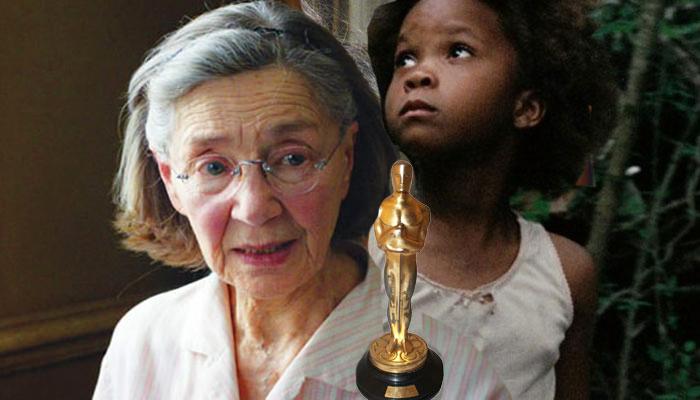 One's 85, the other's 9. And they're both up for the same Oscar.
Yes, history was made on Thursday when the nominees for the 85th Academy Awards were announced, as Amour octogenarian Emmanuelle Riva was pitted against elementary school age Quvenzhane Wallis of Beasts of the Southern Wild in the best actress category, with an amazing (and record) 76-year age gap between the nominees.
Here's a little more info on the headline-making talents: Wallis, a Louisiana native nicknamed "Naysie," made her debut in Beasts of the Southern Wild, distancing herself from the pack of 4,000 local children to play the role of Hushpuppy in director Benh Zeitlin's critically-acclaimed movie.
Article continues below advertisement
"She was always the most gigantic personality in the room," Zeitlin said, adding he was so jarred by the child's acting, he modified the script to better fit her persona.
Since her breakout in the film, she's appeared on The Tonight Show with Jay Leno and been awarded the key to her Louisiana town Houma.
Riva, a native of France, has had acting aspirations since she was Wallis' age, though her family looked down on the profession. She went on to get her first film role at 30 in 1957, and has appeared in dozens French film and television productions in the decades since. She said she was "drawn … to the character and the project" playing a music teacher in Amour for director Michael Haneke.
Riva said the role came at the perfect time in her life, calling it "an extraordinary miracle" for her.
"I was ripe. It was the perfect time for me to become this character; it was the exact moment I could do it. I wasn't acting," Riva said. "I wasn't playing the part, that's the best way I can say it -- I wasn't playing, I was being."
With the nod, Riva edges the late Jessica Tandy (1990's Driving Miss Daisy) for the title of the oldest best actress nominee ever. (Tandy was 80 and she actually won the Oscar.)