Mariah Carey: I Felt 'Unsafe' Around Nicki Minaj After Run-In, Threat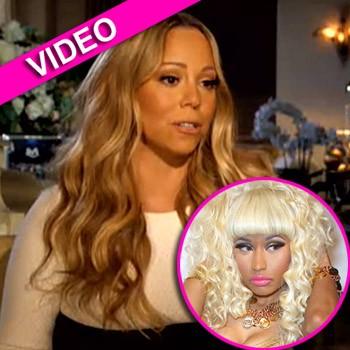 Mariah Carey said she felt "unsafe" working onAmerican Idol alongside her fellow judge Nicki Minaj after their confrontation this past autumn.
"It felt like an unsafe work environment," she told Barbara Walters on Good Morning America Monday. "Anytime anybody's reeling threats at somebody, you know, it's not appropriate.
"I'm a professional - I'm not used to that type of environment."
Mariah, speaking to Walters from her New York apartment, said beefing up her security team "just felt like the appropriate thing to do" in thewake of the incident with Nicki.
Article continues below advertisement
"Sitting there on the road with two babies," Mariah, 42, said, "I'm not going to take any chances."
As RadarOnline.com previously reported, the Super Bass singer exploded on Mariah during the show's October auditions in North Carolina, when she declared, "I'm not f***ing putting up with her highness over there -- figure it the f*** out, figure it out."
The feud escalated to scary proportions after Nicki allegedly threatened to pull a gun on the Vision of Lovesinger, a claim Nicki dubbed a "fabrication."
"For all the drama, I hope it helps the show," Mariah said Monday. "I think it's a classic, classy show and it didn't need this."
American Idol's 12th season begins Wednesday, January 16 on Fox at 8/7c.
radar_embed service=kaltura src="http://cdnapi.kaltura.com/index.php/kwidget/wid/1_okzssgpg/uiconf_id/3775332/st_cache/57601?referer=http://abcnews.go.com/GMA/video/mariah-carey-interview-motherhood-american-idol-relationship-nicki-18150404&autoPlay=false&addThis.playerSize=392x221&freeWheel.siteSectionId=nws_offsite&closedCaptionActive=true&" width="392" height="221" style="border: 0px solid #ffffff;" value="Unfortunately your browser does not support IFrames."