Mama Mariah Carey Snuggles With DemBabies Watching American Idol!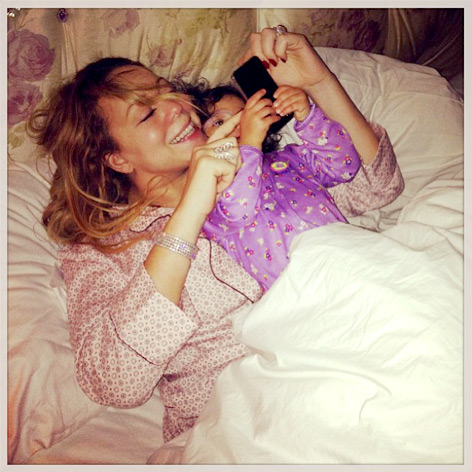 She may be a "b*tch" to Nicki Minaj but to DemBabies Mariah Carey is just "mommy."
The We Belong Together diva posted a photo of her snuggling up with her daughter Monroe on Wednesday night, and while they may have been watching Carey's debut on American Idol, during the commercial break they were clearly just having fun.
Wearing pajamas and no make-up, but dripping in diamonds, the 42-year-old snuggled in bed with Monroe, one of her twins with her hubby Nick Cannon who will be two in April.
Article continues below advertisement
In a photo Carey posted on Instagram during the Season 12 premiere of the hit show, the toddler is seen playing with an iPhone. The singer wrote: "Looking at Instagram during a commercial break #idol."
Carey loves to share photos of herself with her twins – Monroe and son Moroccan. In an adorable Instagram photo posted last week she holds her little girl, while her daughter applies make-up to her mommy's face.
Meanwhile although the debut of American Idol has been hotly anticipated for weeks, fewer viewers than expected tuned in to see if fireworks between the rapper and the diva erupted onscreen.
PHOTO: Nicki Minaj Has Onstage Wardrobe Malfunction
According to Entertainment Weekly Fox's American Idol was the "lowest-rated and least-watched regular season premiere telecast ever." Racking up 17.9 million viewers it was down 19 percent from last year's season premiere.