DemBabies Down Under! Mariah Carey and Nick Cannon's Holiday Vacation With The Twins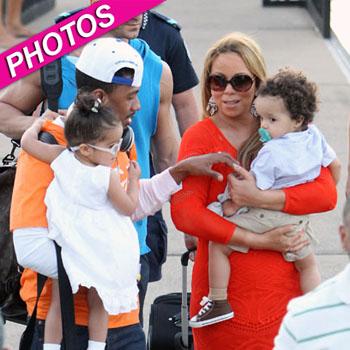 Mariah Carey and husband Nick Cannon had their hands full with DemBabies down under on Saturday.
As our new photos show, the happy couple were a perfect twin tag team as they toted son Moroccan and daughter Monroe, 1 1/2, while on vacation in Queensland, Australia on Dec. 29.
The singer and American Idol judge and her America's Got Talent host hubby showed off their babies as they got on a private yacht. Wearing a bright orange dress, sunglasses, and a smile for photographers, Carey tenderly carried their little boy while Cannon held Moroccan's twin sister. Cannon, casually dressed in a tee shirt, carried all their baby essentials in a back pack and also seemed to be toting Carey's purse!
Article continues below advertisement
At one point during the adorable scene, little Moroccan, who sucked on a pacifier, stood on the dock and held his daddy's hand. Later, Cannon hoisted Monroe up in his arms and gave his daughter, who mirrored her mommy's stylishness in a dress and sunglasses, a loving look.
The entire family is having a blast during the holiday season. As RadarOnline.com has previously reported, Carey tweeted photos of the twins enjoying a Christmas celebration in which their daddy dressed up as Santa Claus!