Critics' Choice Swag Bag Goodies Revealed! Would You Believe Dearfoams And PopChips?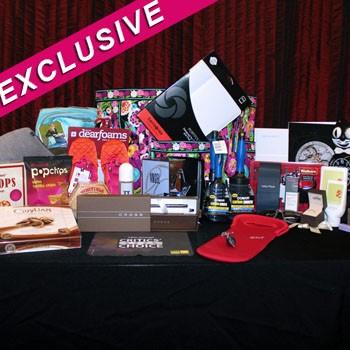 Fans think swag bags for celebrities at award shows always contain lavish, high-priced goodies. But RadarOnline.com has exclusively discovered our favorite stars at the Critics' Choice Awards this week will be toting home more user-friendly items, such as Dearfoams slippers and PopChips.
How refreshing!
The bags will go to the celebrity presenters and nominees including Silver Linings Playbook stars Bradley Cooper and Jennifer Lawrence, Hugh Jackman of Les Miserables, and Zero Dark Thirty actress Jessica Chastainwill contain some things regular folks wouldn't expect.
Article continues below advertisement
The stars will be enjoying two pairs of the popular Dearfoams slippers for men and women with a total value of $64, a $4 bag of PopChips, a $13 bottle of OPI Skyfall James Bond Collection Mini Nail Polish Lacquer, a $10 Tortuga Rum Cake, Gourmet lollipops worth just $5, and Walker's Shortbread and Guylian Chocolate Truffles, both assessed at $12 each.
Best actor nominee Daniel Day-Lewis, whose film Lincoln received a record 13 nominations from the critics' group, can recover from wearing a beard in the historical drama with TwinLuxe and Billy Jealousy men's and products, which cost $26, and $50, respectively, and Murad creams valued at $78.
Although most of the items aren't super expensive, the total value of the bag is still more than $1,000, which isn't chump change.
And the list of gifts inside includes a silver Lyria band with rose gold plating from Parade Design jewelry, costing $195; Nautica Eyewear tagged at $100, Samsonite iPad 2 Portfolios that go for $80; champagne Nicolas Feuillatte One Fo(u)r Mini Rosé, a fresh and delicate rosé champagne $16; Skinnygirl - bottle stoppers in the shape of the Skinnygirl silhouette, as well as wine carriers; and the sweet-smelling $78 Angel by Thierry Mugler Precious Star Fragrance.
The Broadcast Film Critics Association's 18th annual Critics' Choice Awards will be broadcast live on the CW network this Thursday, Jan. 10, at 8 p.m. ET/PT.