Cha-Ching! Old Painting Hanging Behind A Door In Man's Home Office Worth $1 Million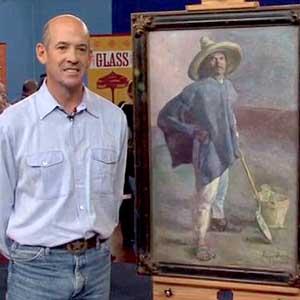 Texas native Rue Ferguson said his "mind went blank" when he learned a painting he inherited -- and hung in his home office, behind a door -- is a Diego Rivera original with a value between $800,000 and $1 million.
Ferguson, appearing on the PBS show Antiques Roadshow, said he knew the 1904 work he got from from his great grandparents was from the acclaimed painter, "but I had no idea what the value of the painting would be."
Article continues below advertisement
Ferguson said he learned of the painting's rich value at the show's taping in Corpus Christi, Texas last August. He said he's still mulling over plans what to do with it.
Watch the video on RadarOnline.com
"More than likely I would imagine it needs to be in a museum where everybody can look at it," Ferguson said. "Now I"m really scared to carry it around at this point."
The show's Mariel MacNaughton told The Corpus Christi Caller that Ferguson's Rivera painting is super-scarce in that it's one of the artist's earliest works.