With Mom At Work, Dad And Toddler Son Are Home Alone: See The Hysterical Time Lapse Video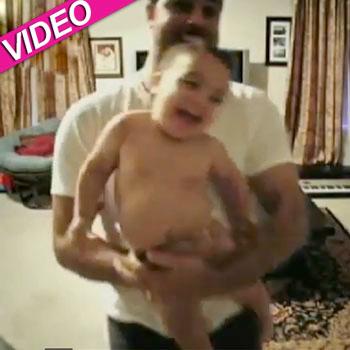 Emio Tomeoni wanted his wife Stephanie Ramos to see what goes on when he and their toddler son are home alone, so dad set up a video camera and then posted the hysterical time lapse video to YouTube.
The Kansas City, Missouri dad's video has now gone viral with parents everywhere laughing out loud.
With Ramos off at work, Tomeoni and little Xavier, 21 months, start out in their clean and orderly living room. Before long, there's complete chaos!
Article continues below advertisement
Toys seem to appear from everywhere. Dad and tot chase each other around the coffee table and share Xavier's playpen. They do a duet on a bongo drum, handle a diaper change with deft expertise, take off their shirts after a little lunch time spillage, and generally have one terrific time.
To Tomeoni's credit, he puts the room completely back together before his unsuspecting wife got home.
You can watch it here!