"Modern Family" Meets "The West Wing" on "1600 Penn"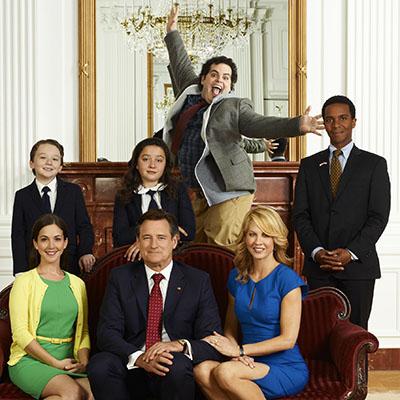 They're a typical all- American family — who live at the most famous address in the world.
On the new comedy 1600 Penn, President Dale Gilchrist (Bill Pullman) may be the Commander in Chief, but tense showdowns with foreign dignitaries are nothing compared to the stress of children who can't stay out of the headlines and a second wife (Jenna Elfman) who just can't win over her stepkids.
"It's about what it would be like if a normal, quirky family got into the White House," Martha MacIsaac, who plays the President's uptight eldest daughter, Becca, tells Star. "What would that look like from the inside?"
Article continues below advertisement
Topping the POTUS' list of problems is son Skip (Josh Gad), the buffoonish black sheep whose very public blunders — he has a nasty habit of accidentally setting things on fire — have made him a staple of late-night jokes.
However, when the series begins, it's type-A overachiever Becca who causes a mini national crisis. As Martha explains, "In the first episode, she takes a pregnancy test — and her life starts going in the complete opposite direction."
That's right: As if he didn't already have enough on his plate, the leader of the free world's daughter is knocked up!
Though 1600 Penn is a traditional sitcom, it does borrow from shows like The West Wing. "It looks and is shot just like a White House drama, so we get to do those long walk-and-talks," says Martha. Toss in executive producer Jon Lovett, who was once a Presidential speechwriter, and it feels as chaotic as D.C. Well, almost.
"It's fascinating to see how the system works," says Canada native Martha. "Politics down here is much more of a show. There's a lot more screaming and hollering in public!"
Sneak Preview: Monday, Dec. 17, at 9:30PM on NBC