Holiday Movie Preview: 5 Funny Comedies Worth Seeing!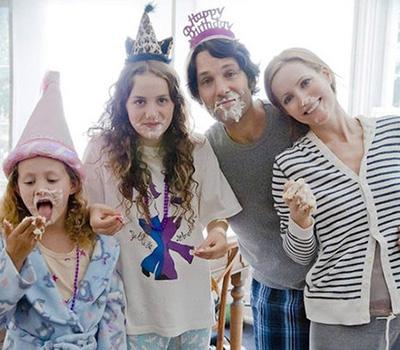 THIS IS 40
Dec. 21
What possesses a grown man to pretend he's going to the bathroom just to have quiet time with his iPad? This comedic quasi-spinoff of Knocked Up, follows Pete (Paul Rudd) and Debbie (Leslie Mann) on the eve of her 40th as they raise two daughters, face money woes and have hilarious fights about nothing.
Marital Bliss
Mann, who recently turned 40 herself, can relate to her character's crisis. "It's a little scary," she admits. "It forced me to look at things. Is this what my life is? So this is my husband for the rest of my life?" As for that hubby, writer/director Judd Apatow, he didn't mind using real-life experiences in his latest movie. "I'm not as embarrassed as I probably should be."
Article continues below advertisement
PLAYING FOR KEEPS
Dec. 7
Gerard Butler slides comfortably back into hunky-Scotsman-every-girl-wants-to-sleep-with mode as George. He's a former soccer pro who comes back home to coach his son's team, only to fall back in love with his ex (Jessica Biel) as legions of soccer moms (Uma Thurman, Catherine Zeta-Jones, Judy Greer) try to bed him.
Play Ball
Biel was a natural to play the sweet girl who is mistreated by the remorseless ladies' man. She and her costar briefly dated while filming the movie — which overlapped with her downtime with Justin Timberlake — and, apparently, a lovestruck Butler considers her "the one that got away."
STAND UP GUYS
Dec. 14
When Val (Al Pacino) is released from prison after 28 years, he reunites with his old partner, Doc (Christopher Walken), and getaway driver, Hirsch (Alan Arkin). But the good times won't last long, because Doc has orders from his mobster boss to kill Val in 24 hours.
Look Who's Singing
This crime comedy features tunes from Jon Bon Jovi, who used a unique process when auditioning for director Fisher Stevens. The rocker explains: "I sung it into my iPhone with my acoustic guitar!"
Article continues below advertisement
SAVE THE DATE
Dec. 14
In this quirky romantic comedy, Sarah (Lizzy Caplan) gets swept up in a rebound romance after turning down the proposal of her rocker boyfriend (Geoffrey Arend) in the middle of a concert. Meanwhile, her sister Beth (Alison Brie) is planning her wedding to Andrew (Martin Starr) — who happens to be in the very same band. Awkward!
TV Dorks, Rejoice!
This comedy brings together the crush-worthy stars of two cult classics: Caplan's Party Down and Brie's Community. "There's this kinship," Brie says. "We've been doing this for enough time, so we knew many people in common," adds Caplan, who has a rule for figuring out which costars to like. "All you need is three people to vouch for the person to know that you're going to get along."
THE GUILT TRIP
Dec. 19
Get ready for the world's most angst-ridden cross-country trip when an L.A. inventor (Seth Rogen) hits the road to hawk his new organic cleaner and, in a moment of weakness, invites his lonely, overbearing mom (Barbra Streisand) to come along.
Oy!
The premise may sound far-fetched but it's based on a trip screenwriter Dan Fogelman took with his "pain-in-the-ass Jewish mother" in 2007. She passed away soon after, but, as Fogelman explains, "If my mother knew that Barbra was playing her, she'd be pretty happy."