"Shaws Of Sunset" Returns With More G.G. Drama!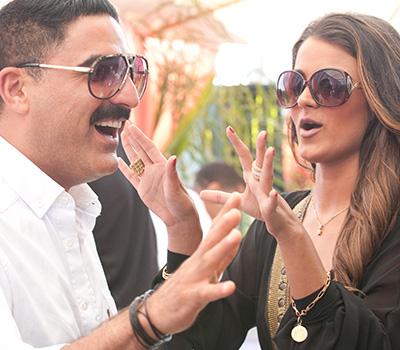 They have roots in Iran, but these proud Persian Americans were born to play in Beverly Hills. On season two of Shahs of Sunset, the circle of six fabulous friends will once again gallivant around Los Angeles in pursuit of love and happiness — though the nights usually end in screaming matches and thrown cocktails.
"We don't have any filters," Golnesa "GG" Gharachedaghi, the stunning self-described princess who lunches by day and parties by night (with Daddy's money, of course) tells Star. "We say whatever is on our minds. Honesty is more fun, I guess."
Article continues below advertisement
Viewers have a VIP seat on the party bus for the group's craziest moments, from the out-of-the-closet (and amazingly mustachioed) Reza Farahan's impending "gaylife crisis" to Mercedes "MJ" Javid's attempts to stop partying long enough to find a nice guy.
But, as usual, it's GG who is the most combustible (see the soon-to-be classic line coming up this season: "I would love to cut your face with a knife right now"). However, you'll also see GG's softer, savvier side as she launches a business that sells hair extensions, naturally. "I had to learn a lot of discipline," she explains. "It is refreshing, but also very hard."
New career aside, the old GG will still pay a visit from time to time. "Anyone who knows me understands that I have a very short fuse," she admits. "I am still working on my anger issues."
This season, the original five Shahs of Sunset will be joined by a new face (and legs and boobs), Lilly Ghalichi. She's a Persian Barbie who passed the bar but launched a swimwear line, Swimgerie, instead of practicing law. Lilly seems to have it all, but she is haunted by a family that's still angry she gave up her legal career and an on-again off-again boyfriend who still lives back home in her native Texas.
With her big heels and even bigger personality, Lilly promises to be a perfect addition to the Shahs squad. And though GG won't say how well she gets along with the new girl, she does promise that she has enough hostility to go around.
"I have my shares of ups and downs with everyone," she tells Star. "I don't single anyone out when it comes to conflict." What a sweetheart!
Premieres Sunday, Dec. 2, at 10PM on Bravo