Scarlett Johansson Fulfills Lifelong 'Weather Girl' Dream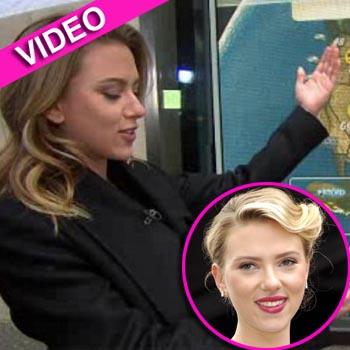 By Amber Goodhand - Radar News Editor
Scarlett Johansson is more than just a pretty face, she's an adaptable actress able to jump into any role -- even Weather Girl.
When Al Roker was struck with laryngitis during Tuesday's TODAY show and unable to do his usual weather report, it was Scarlett who gladly volunteered and RadarOnline.com has the clip.
"I have to say, this is my dream come true…doing the weather with Al Roker," Scarlett joked.
Article continues below advertisement
"No, you're doing the weather for Al Roker, not with Al Roker!" Matt Lauer playfully corrected her.
Using the flair of hand gestures towards states when reading their forecast, Scarlett breezed through the weather and finished with a dramatic leg kick.
After Scarlett did such a great job, Matt joked, "We're getting news now from the control room, our director now has laryngitis and they'd like you to head down there."