Robert De Niro Slams Jay-Z, Calls Him 'Disrespectful' In Heated Argument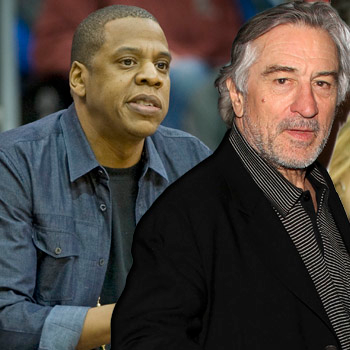 Add Robert De Niro to the list of Jay-Z's 99 problems.
The legendary Oscar winning star called the superstar rapper "disrespectful" at Leonardo DiCaprio's recent birthday party at the Darby in New York, after the Empire State Of Mind rapper failed to return a series of calls about recording a song for the actor's Tribeca Film Festival.
"Bob was sitting at a table, and when Jay-Z went over to say, 'Hello,' De Niro told Jay that he never called him back," a source told the NY Post, adding the Taxi Driver star "wasn't in any mood to make polite conversation.
Article continues below advertisement
"He told Jay that if somebody calls you six times, you call them back. It doesn't matter who you are, that is just rude," the source said, adding that Jay-Z's wife Beyonce tried to smooth things over, but De Niro's tone didn't change.
Jay-Z tried to explain to the Cape Fear star that he's not good with the phone, but "De Niro kept telling him that he thinks he's the man, but that he was disrespectful.'"
Motherhood Has Given Me Purpose,' Says Beyonce, 'I Realized Why I Was Born'
Beyonce Accuses Kim Kardashian Of Trying To Steal Limelight From Jay-Z
Beyonce Celebrates 31st Birthday On French Yacht With Jay-Z & Adorable Blue Ivy