Movie Review: "Life Of Pi" Gets A Big Roar Of Approval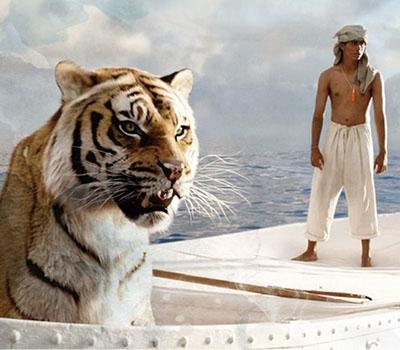 Based on the best-selling novel Life Of Pi, this epic film by Oscar-winning director Ang Lee is one of the few to make the most of 3-D. The story deals with a young student from India named Pi Patel (newcomer Suraj Sharma), who is shipwrecked while traveling from India to Canada on a cargo ship full of zoo animals.
He winds up on a lifeboat in the middle of the ocean — and his only companion is a full-grown Bengal tiger. Pi has to figure out a way to tame the wild beast, even as he tries to keep himself alive while facing hunger and thirst. It's a fascinating and moving fable, with stunning visuals — from the sinking of the ship to an onslaught of flying fish to the tiger itself, which is computer-generated (but rarely looks it).
Article continues below advertisement
Sharma is a graceful young actor, capable of holding your attention by himself for long stretches of screen time. The film deals in bigger themes — the smallness of man in the face of nature's vastness, the need for faith — but just plug into a story that holds you in its grip and leave that other stuff for later.
Long story short: A big roar of approval.