Kim Kardashian Wears Plunging Jumpsuit For Night Out In London WIth Kayne West And Sisters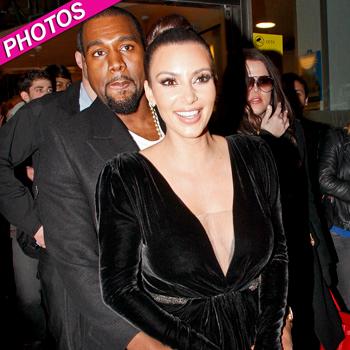 Kim Kardashian ignored the chilly London weather to step out in a revealing black outfit with her boyfriend Kayne West on Friday night.
The reality TV star, 32, showed off her impressive curves in a sexy plunging jumpsuit which clearly made a good impression on West, 35, who couldn't wipe the smile from his face.
It was enough to make him forget about the possible release of a sex tape that is being actively shopped.
Article continues below advertisement
Kim recently admitted that although she is still legally married to estranged hubby Kris Humphries, that hasn't had an effect on her happy romance with the rapper.
The couple was joined by Kim's younger sister Khloé, who had also opted for a fashionable black ensemble which included a military style trench coat and knee high boots.
Older sibling Kourtney and her baby daddy, Scott Disick, had co-ordinated their black pant suits for the meal at upscale eatery Hakkasan in Mayfair, London.
Where Does Kim Kardashian Get Her Confidence? From Kanye West, Of Course!
Above The Law Kim? Kardashian Parks Her Rolls Royce In A Handicap Spot!