Did She Really Say That?!? Jessica Biel Tells Racy Pre-Wedding Story On Letterman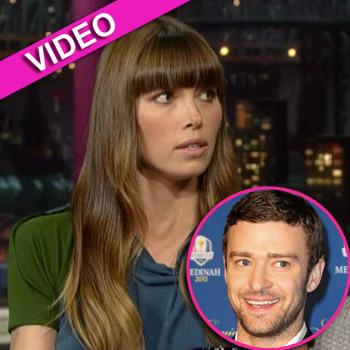 In her first interview following her wedding to Justin Timberlake last month, Jessica Biel appeared on The Late Show with David Letterman Monday, telling Dave a racy story about an experience she had shortly before she became Mrs. SexyBack.
Jessica confirmed the hush-hush nature of her October 19 wedding in Southern Italy, saying she and JT "wanted to keep it as much of a secret as we could…so I kinda got really obsessed with this CIA operative kind of scheme."
Article continues below advertisement
The 30-year-old beauty said she and a pal took a retreat to a spa in the Swiss Alps just before the wedding, which made for an awkward culture clash when she decided to sweat it out in a bathhouse.
"We're in the spa, in the sauna and in walked two husky Austrian men…OK, I thought this is a little unusual but we're in Europe…I didn't really know what the protocol was," the Total Recall star said, noting she wore a bikini that day. "They drop their towels -- they are butt naked!
"Older, husky men -- they were naked and I'm in the middle of them!" she said. "I look over and I realize, yes it is confirmed, there are balls on wood! Not just naked, but balls on wood Dave!
"I was so stunned … I just laid there sandwiched in between these guys," the Hitchcock star, looking stylish in a Roland Mouret dress, told Letterman. "We found out later this is very normal."
Watch the video on RadarOnline.com
Article continues below advertisement