Keeping It In The Family! Dad, Son And Daughter Gang Could Be Behind Up To Seven Bank Robberies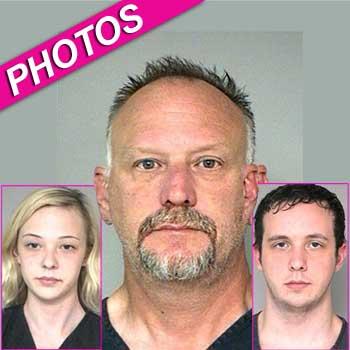 The family that robs banks together could also be the family that spends the rest of their lives in prison!
A bank robbing trio of a father, son and daughter is accused of being behind up to seven bank heists across two states.
Ronald Scott Catt, 50, and his children 20-year-old Hayden and 18-year-old Abby were arrested last week on charges they robbed a credit union in Katy, Texas.
And now local authorities are saying that the Catt family, who recently moved to the area, could be behind a string of other bank robberies across Texas and their native Oregon.
Article continues below advertisement
According to ABC News, two figures who appear to be Ronald and Hayden Catt entered the credit union on October 1 toting guns and wearing "distinctive" orange disguises before stealing cash and being driven off in a getaway car by daughter Abby.
The connection to other robberies came to light when the bright orange vests the men wore during the crimes were traced to a local Home Depot store and a review of CCTV footage showed the family allegedly purchasing the disguises.
A debit card transaction then led police to the Catts.
Local residents are in disbelief at the allegations.
Eric Lundeen told ABC the Catts seemed like "really solid members of the community."
He added: "Eric was a single dad. I think he lost his wife and he had the reponsibility to take care of his kids and I got to tell you, he was there for them."
The father and son are being held in the Fort Bend County Jail on $140,000 bonds and have been charged with robbery.