Michael Jackson's Kids: Red Carpet Shills For Vitamin Drink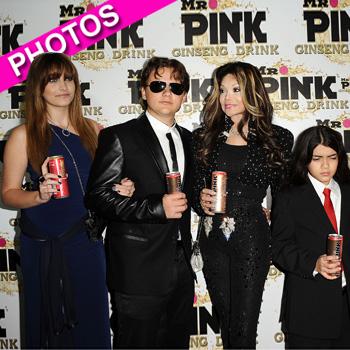 We have to ask -- would their dad be rolling over in his grave? Paris, Prince and Blanket Jackson walked a red carpet Thursday night at a launch party for Mr. Pink Ginseng Drink, and the three of them actually posed holding up cans of the concoction.
Blanket, 10, even posed chugging down a can!
The drink markets itself as something that can "promote longevity" and "restore youthfulness" -- just what every 10-year-old needs.
Article continues below advertisement
Paris 14, was decked out in a very grown-up gown and extensions in her hair.
The Jackson trio was accompanied by their aunt La Toya to the event held at the Four Seasons Beverly Wilshire Hotel in Beverly Hills, and Lindsay Lohan was among the other guests.
RELATED STORIES: