Kim Kardashian Takes The Plunge As Sexy Halloween Mermaid!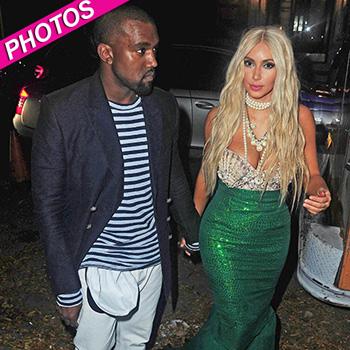 Kim Kardashian managed to reel in plenty of attention in her skin tight Halloween mermaid costume and RadarOnline.com has the sexy photos.
The curvy reality star made a splash as she hit a Midori party in New York on Saturday wearing a skimpy shell bra teamed with a long green fishtail skirt.
Her rapper boyfriend, Kanye West, 35 - who was dressed as a sea captain - was clearly a fan of his girlfriend's new look, which which was topped off with a long blonde wig.
Article continues below advertisement
"Kim and Kanye were holding hands and kissing each other the whole night," said Tom Murro, a guest at the party.
"They were smiling at each other like two lovebirds all night. They looked very much in love."
Kim was also very happy with her outfit and shared pictures with her fans via Twitter earlier in the day and throughout the evening.
Despite severe weather warnings on the East coast the 32-year-old wasn't worried telling the Washington Post that when Hurricane Sandy hits Kanye would "sail" her to safety.