"Happy Endings" Returns With Anti-"Friends" Mentality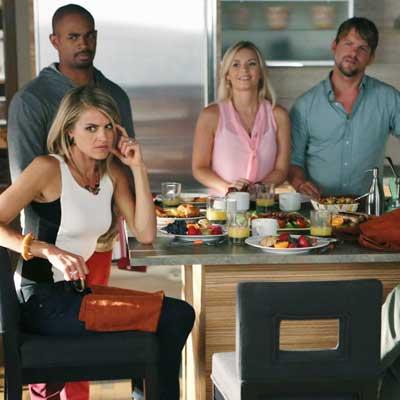 Will they or won't they? It's a question that, frankly, no one involved with the hilarious off-kilter comedy Happy Endings was worried about. So when ex-lovers Alex (Elisha Cuthbert) and Dave (Zachary Knighton) rekindle their dysfunctional romance to kick off season three, the other four in this tight-knit group aren't particularly fazed.
"We're the ones making a big deal about it," laughs Elisha, reports Star magazine. "They're just like, 'Whatever! Nobody cares about your stuff anymore!'"
Article continues below advertisement
If it sounds like the anti-Friends, that's because it is. Need proof? The season opens with lovelorn Penny (Casey Wilson) in a full-body cast and gay pal Max (Adam Pally) playing nurse — just so he can keep her hobbled and force her hunky physical therapist to stick around.
Meanwhile, breadwinner Brad (Damon Wayans Jr.) — one half of a gushy married couple with Jane (Eliza Coupe) — has been laid off, and he's drowning his sorrows in ventriloquism. And then there are Alex and Dave, who, unlike Ross and Rachel, probably weren't meant to be together. "I think you're learning how dumb these two can be with each other," Zachary explains. "It's kind of like a Voltron of stupidity."
Not surprisingly, it can be a lot of fun filming a show so bizarre that it will feature two money-hungry pals creating a "bar mitzvah hype squad" called Boys II Menorah. Just ask Zachary. "We were here on Friday, and everybody was still having fun and having a couple of drinks," he says. "Everybody hangs and watches each other do scenes. It's a very supportive group of maniacs."
Premieres Tuesday, Oct. 23, at 9PM on ABC