Exclusive
Halloween Makeup Mob Wives Style! Drita D'Avanzo Offers Tips On How To Get Sexy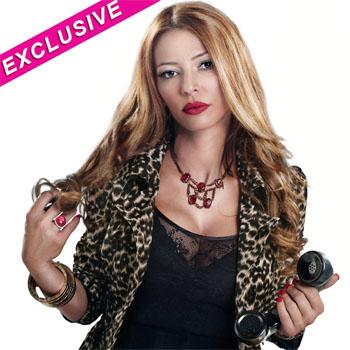 Article continues below advertisement
Halloween is one of my favorite holidays, because it gives me a reason to be super sexy and play with make-up. For a sexy Halloween look, I always go for the smoky eye with lots of falselashes. The sex appeal of any sexy look is the eyes, the thicker the better. Go to your nearest drug store and pick up eyelashes. This time of year there are some amazing fake lashes, some have diamonds or are festive red or blue. You want to go overboard and exaggerated. I usually put gel liner and bring it out past where the eye ends. So your eyes look big and wide – like a cat. Don't forget the red lipstick! No red lipstick is like no peanut butter with the jelly. Red lips are Hot and the perfect touch to a sexy look. Just Me Cosmetics by Drita carries the best red called DRITA. It is a true red.
Make sure you have an accurate picture of the face of your costume. Always know, when you're putting Halloween makeup on, you have to make sure that whatever you see in a picture must be intensified. For instance, I was Jessica Rabbit last year. Jessica Rabbit has very high brows so if you have thin eyebrows you can cover them with concealer (Just Me Cosmetics perfect concealer worked great for coverage) and draw a new brow. Put some white shimmer right beneath the brow, and dust some light purple on the lid – I used mineral loose shimmer shadows from Just Me Cosmetics by Drita. The red lips are key to looking like her. Cover your lips with concealer and again, red shape your lips.
If you want to look like a sweet sexy schoolgirl, apply bright pink blush and sheer lipstick. If you're going as a fairy to a party, play with a lot of shimmer and eye shadows.
Keep checking back to RadarOnline.com for all of your Halloween coverage!