The End Of GTL Is Near As "Jersey Shore" Kicks Off Final Season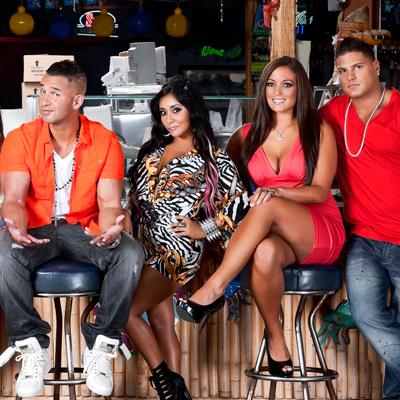 If a Guido gorilla juicehead gets drunk in New Jersey and no camera is there to capture it, does he still get a hangover? After three years, six seasons and total pop culture saturation (see their painful cameo in the Three Stooges movie), the party animals of Jersey Shore are leaving the air — but not before one last round of drinks and GTL.
"I think we all had an idea that this could be our last season," Sammi "Sweetheart" Giancola tells Star. But she knows it's time to move on: "We're kind of growing up, and everybody's lives are moving in different directions."
Article continues below advertisement
For starters, there's still-pregnant Snooki's bombshell decision to avoid prepartum temptation by moving out of the house (albeit to a place right next door). Then there's The Situation, who tries to rehab his image by spending the season sober. But whether it's Deena getting arrested or Vinny and Pauly D's ever-reliable bromance, the crazy cohorts still get up to their old tricks before the series heads to that great big nightclub in the sky.
"You're going to see some fights, drama and hookups," promises Sammi, who won't let a pregnant Snooki slow her down. "I was still going down to the Shore to party and be me, so it didn't affect me much."
Sammi's had ups and downs over her years on Jersey Shore, but she has no regrets. "The experience has been amazing and I wouldn't change it for the world," she explains. "I've been able to have so many opportunities that I didn't have in the beginning."
For the former college soccer star, that includes her own fitness line, the Sammi Sweetheart collection, which she debuted at New York Fashion Week.
And in bigger news, she's even moved with her buff on-again, off-again boyfriend Ronnie — to (gasp!) New York City. "I am no longer a Jersey girl," admits a solemn Sammi. The times they are a-changin'.
Premieres Thursday, Oct. 4, at 10PM on MTV