Real Life Teen Moms & Dads! 10 Celebs Who Had Kids Before 20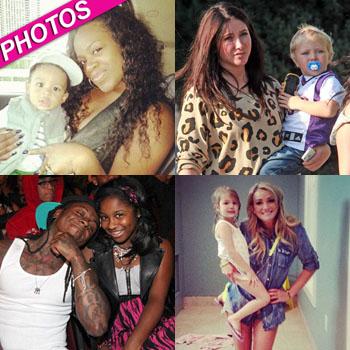 Jenelle Evans, Leah Messer and Amber Portwood aren't the only famous Teen Moms!
While most celebrities in Tinseltown wait until they are old enough to drink to start making babies, a few handfuls of stars have given birth to children while still in their teens. RadarOnline.com has photos and details about 10 real life celebrity teen moms and dads.
Grammy Award winning rapper Lil Wayne didn't even have his driver's license when he started having kids. The Lollipop singer welcomed his first child when he was only 15, and at 30 years old has a brood of four!
Article continues below advertisement
Niki Taylor and Natalia Vodianova both got their careers as supermodels and as moms started really young, welcoming their first children when they were only 19.
Aretha Franklin has admitted that she got pregnant just three months after her thirteenth birthday, welcoming her first child, Clarence at the age of 14. She went on to have another son when she was 16, and an additional two when she was an adult.
New Zealand actress Keisha Castle-Hughes gained international fame in her youth, becoming the youngest Best Actress nominee at 13 for her role in Whale Rider. Four years later at 17, she welcomed a baby girl.
Before Fantasia Barrino became an American Idol, she was an American mom! The season 3 winner had a child when she was just 16.
Which other stars were teen parents? Find out by clicking here.
RELATED STORIES: