Thomas Burns Promises You A 'Reel' Good Time At The Carmel Art & Film Festival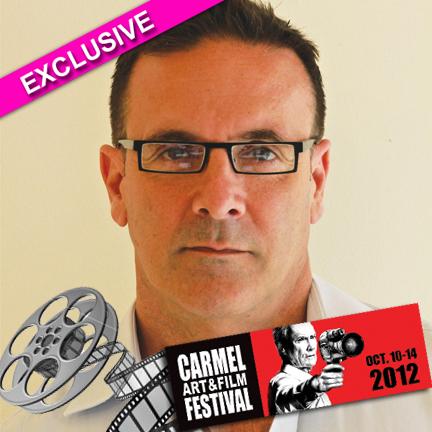 By Neil Woulfe - RadarOnline.com Senior News Director
There's no lack of famous film festivals in the world -- from Cannes to Toronto to Sundance, but in beautiful Southern California, the 4th annual Carmel Art & Film Festival offers something truly unique.
Starting on Wednesday, October 10, the 5-day festival in this charming coastal village will feature special appearances by Oscar-winning stars Clint Eastwood and Cloris Leachman, in addition to screening nearly 75 movies from a variety of genres, and we can't forget the rockin' parties, including bonfire bashes at the beach!
Article continues below advertisement
But fun aside, what makes the Carmel Art & Film Festival so special is that in addition to shining a spotlight on independent film, it's also a celebration of art, photography and music.
RadarOnline.com is proud to be one of the official sponsors of the event, and we had the pleasure of talking exclusively with Thomas Burns, the publisher of Artworks Magazine and the festival's President and CEO, about what makes the Carmel Art & Film Festival truly one-of-a-kind.
RadarOnline.com: Thanks for taking time to talk with us Tom. What inspired you to found the Carmel Art & Film Festival?
Tom: I am so passionate about art. Film seems to me, almost the perfect culmination of all the arts -- full of all the sensory and emotional elements that can make art so powerful. God, I hate art speak. Let's just say, I love film.
RadarOnline.com: What are some of the highlights of the 5-day event?
Tom: This year we have an incredible line-up of films. Some of the big films are: The Sessions, A Royal Affair, Amour, Central Park Five, And If We All Lived Together? Then, of course, there are the parties! Mr. Brainwash is back! We are hosting a huge after party for him with DJ ShyBoy. There is also one of the festival marquee events, which is our famous filmmakers dinner on the beach. We build 20 bonfires and host a catered dinner around each bonfire. Filmmakers love this event. A little later that night we screen a film further down the beach that is free and open to the public. Last year we had about 800 at the beach film. This year we expect more!
Article continues below advertisement
I think one of the major appeals about the film festival is our location. It's an easy drive from San Francisco for a nice weekend getaway. And we draw a lot of attendees from L.A. -- it's an easy sell -- Carmel for the weekend! And Carmel is exceptionally beautiful. Great shops and restaurants, a beautiful beach -- it all makes for a great environment to see films.
RadarOnline.com: The festival really is a celebration of the independent filmmaker. Tell us about the various categories directors can enter their work in.
Tom: We offer six awards: Best Feature, Best Documentary, Best Short, Best Student and the Clint Eastwood Filmmaker award. Clint and Dina Eastwood select from our submitted films or they choose a filmmaker of their liking for the award. This year, we added a new category: The Best Screenwriter Award.
RadarOnline.com: The festival will also shine a spotlight on Women In Film and will feature a special screening of the documentary About Face, The Supermodels, Then and Now, and some of the famous faces featured in the film will attend. Tell me more about that.
Article continues below advertisement
Tom: Our Women in Film event is one of our biggest events at the festival. This year the lunch portion of the event sold out in a couple of weeks. We put 250 women on stage at the Sunset Center for lunch. The event includes a silent auction with some really great items -- 100 percent of the proceeds of all the items donated to the festival go to our scholarship fund. We also reserve a seat at every table for a young girl that is interested in the arts. In the past, this event is a pretty empowering event for these girls. Last year one of our special guests was Joan Fontaine. This year Cheryl Tiegs, Beverly Johnson and Cloris Leachman will be here.
RadarOnline.com: What a great lineup! You must be especially thrilled to have the legendary Cloris Leachman attending the festival. At 86, the Oscar-winner ( Best Supporting Actress for 1971's The Last Picture Show) and 9-time Emmy winner is still going strong -- she's currently co-starring on FOX's Raising Hope. What can you share about her involvement in the festival?
Tom: Cloris is great. Her career is impressive. And she's hilarious. We are thrilled that she will be spending time with us in Carmel. I can't say too much about Cloris involvement until AFTER the event. I do have to keep SOME surprises.
Article continues below advertisement
RadarOnline.com: As you mentioned, Carmel's most famous residents -- Clint and Dina Eastwood -- will hand out the Clint Eastwood Filmmakers Award to a director who exemplifies Clint's commitment to the craft of filmmaking. Tells us about Clint's involvement in the festival, and your personal dealings with him and Dina.
Tom: That's funny. It's not like Clint and I hang. Dina is on our board, so she is involved in the festival. With Clint, you get what you get. And honestly, we are thrilled with that. There are few bigger names in the business that carry more weight and credibility than Eastwood. Clint's a pretty private guy and we do our best to respect his privacy. We literally are neighbors. We share part of a driveway. But for 15 years I think I have passed him once in the driveway. Dina, on the other hand, we have almost crashed a few times (both of us on cell phones – JUST KIDDING. lol).
RadarOnline.com: Earlier, you spoke of L.A.-based filmmaker and artist Mr. Brainwash. For the event, I understand he designed a really cool poster, which features Clint.
Tom: Yes, but that was a bit of a process. Every year we ask an artist to design our poster for the festival. Two years ago, Mr. Brainwash designed our Hitchcock poster. This year while I was talking with MBW, I also thought I would take a stab at asking Clint if we could use his image. I thought it was a wild card -- but my philosophy is you have to ask. When it came back that he was cool with it, I was a little shocked, but totally thrilled. When I told Mr. Brainwash, he was excited too. We have had the print a while in town. We get calls from around the world asking for the poster. It's crazy, but it goes to show how popular both of these guys are.
Article continues below advertisement
RadarOnline.com: The festival is much more than just a celebration of film -- it will also feature LA-based ShyBoy and a special acoustic performance by Griffin House. Tell us more about the entertainment we'll see.
Tom: Griffin House is a returning artist making his third trip to the festival stage. He loves Carmel and Carmel loves him because he puts on such an emotional and moving performance every time he comes here. He's a tremendous singer/songwriter based in Nashville. And then, yes, we are thrilled to welcome ShyBoy as our headliner for this year's festival. He's out of Los Angeles and will be exclusively debuting his first solo album, "Water on Mars," at our event. ShyBoy has no vocal limits and really has unique talents. His music really is art ... a modern soundscape with kind of a retro edge.