That's A Big Foot! Tallest Man In America Gets New Shoes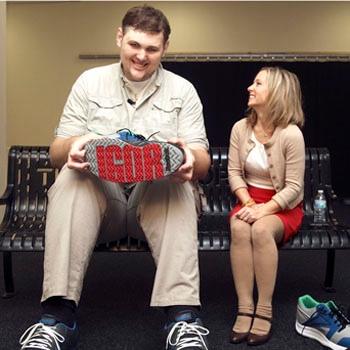 The phrase, "If the shoe fits…" couldn't be more true than for America's tallest man!
At 7'8 1/3" and with size 24 feet, Igor Vovkivinskiy can't go shopping for shoes in his local mall, so Reebok has made him custom-designed giant sneakers that even have his name emblazoned on the bottom -- just in case someone confuses them for their own!
The gentle giant from the Ukraine, who has been living in Rochester, New York since 1989, has only ever had one pair of shoes at a time.
Article continues below advertisement
"Wow!" he gushed as he wiggled his feet into one of his three new pairs of Reeboks, reported the Post Bulletin. "It feels so good, like I'm walking on pillows or mattresses."
"I'm going to be able to go to the store for groceries or the hardware store if I need to fix something at my mom's house," said 30-year-old Igor, holding up the boat-like sneakers.
Vovkivinskiy came to the U.S. to have Mayo Clinic treat a tumor on his pituitary gland that was accelerating his growth, and 27 years later he still suffers from debilitating pain from his misshapen feet.
In May, he traveled to Reebok headquarters in Canton, Massachusetts, to go through a series of tests, measurements and evaluations so they could create the custom shoes for him.
Now Igor hopes that the new trainers will kick-start his fitness regime and help blast off some of his 430 pounds.
RELATED STORIES: