Controversial Lottery Winner Amanda Clayton Dies From Drug Overdose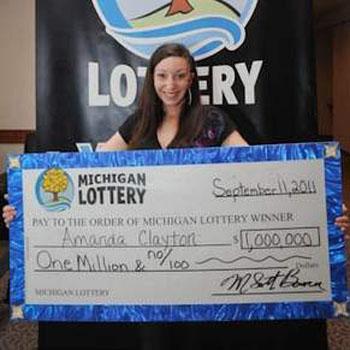 One year after she won $1 million in the Michigan State Lottery, Amanda Clayton has died of a suspected drug overdose.
Ecorse Police Sgt. Cornelius Herring confirmed Clayton was found dead in a private home at 9 am Saturday, reports The Detroit Free Press.
The Lincoln Park woman, 25, hit headlines in July when it was learned that she was on food stamps at the time of her winning and had continued to collect the benefit.
Article continues below advertisement
Clayton opted to take the lump sum pay-out on her winning, approximately $735,000. She bought a new house and a car.
Attorney General Bill Schuette charged Clayton with felony welfare fraud, and she was sentenced to nine months of probation. She was also required to repay the $5,475 in food and medical assistance she received after winning the Make Me Rich lottery game.
"It's simply common sense that million dollar lottery winners forfeit their right to public assistance," Attorney General Bill Schuette said at Clayton's April arraignment.