Fall Preview: New TV Dramas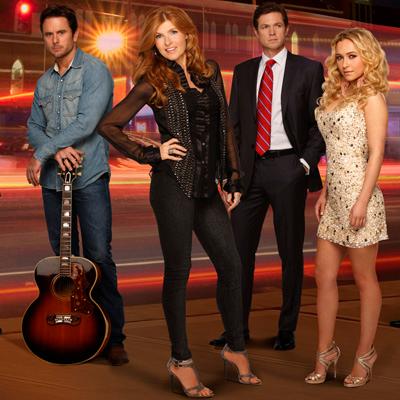 Listen up, drama queens and kings! This fall there's plenty of conflict, mystery and theatrics to keep you glued to the television. Star magazine brings you the best of fall TV's new drama series.
NASHVILLE
When album sales sputter for classy country legend Rayna James (Connie Britton), she's given two choices: be dropped by her label or go on tour with calculating crossover bad-girl star Juliette Barnes (Hayden Panettiere). For Hayden, playing such a raging, um, brat does not come naturally. "It's definitely something new to me," she says. "They'll call, 'Cut!' and I'll be like, 'I'm so sorry!'"
Article continues below advertisement
Premieres Wednesday, Oct. 10, at 10PM on ABC
666 PARK AVENUE
What the new managers (Rachael Taylor, Dave Annable) of a fancy yet haunted NYC building don't know is that the creepy owner, Gavin Doran (Terry O'Quinn), has gotten all the residents to sell their souls for success. "Gavin's a sharecropper on the plantation of evil," terry tells Star. "He plants the seeds, but he only gets half the harvest. He has to feed some back to the building."
Premieres Sunday, Sept. 30, at 10PM on ABC
REVOLUTION
Fifteen years after all the electricity in the world went out and civilization was devastated, the survivors catch their dinner with arrows and pay taxes to a warlord. When her brother is kidnapped by a local militia, Charlie (Tracy Spiridakos) channels her inner Katniss to become the hero who searches for him. "She's a tough chick," says Tracy. "She hasn't been babied her whole life, and I think that freedom ignites the adventurous side of her. She wants to see the world."
Article continues below advertisement
Premieres Monday, Sept. 17, at 10PM on NBC
LAST RESORT
the commander of a nuclear sub (Andre Braugher) and his shockingly good-looking crew (including Scott Speedman and Daisy Betts) disobey an order from a rogue faction of the U.S. government and become fugitives. Now on an exotic island, the nukes-packing crew tries to clear their names. While no one knows if their boss made the right call, Braugher can't complain about working in Oahu. "I told my family, 'Everybody stay there. Daddy's going to go to Hawaii for a couple months and figure this thing out.'"
Premieres Thursday, Sept. 27, at 8PM on ABC
ELEMENTARY
The more things change (the show takes place in New York; Dr. Watson is played by Lucy Liu), the more they stay the same. That's because this modern-day Sherlock Holmes (Jonny Lee Miller) is still an eccentric who is one step ahead of the NYPD cops he consults for. And playing a genius, it seems, has its advantages. "I don't have to write it, which is good," Jonny tells Star. "It's nice to pretend to be intelligent."
Article continues below advertisement
Premieres Thursday, Sept. 27, at 10PM on CBS
ARROW
No one knows what happened to billionaire playboy Oliver Queen (Stephen Amell) in the five years that he went missing, but now he's back in Starling City to dress up and catch bad guys with a bow and arrow. Unfortunately, all the chin-ups in the world couldn't prepare Stephen for such a physical role. "You get this adrenaline going when you're shooting," he explains. "Then the next day you hurt. Bad."
Premieres Wednesday, Oct. 10, at 8PM on The CW
CHICAGO FIRE
When these hunky firefighters and paramedics aren't racing into danger to save lives, they're back at Firehouse 51, squabbling with each other. But no matter how many action scenes stars Taylor Kinney and Jesse Spencer shot in full gear, nothing compared to the real thing. "You walk into a smoke-filled room that's over 200ºF, and it's a shock to the senses," says Taylor. "You really can't see four feet in front of you."
Article continues below advertisement
Premieres Wednesday, Oct. 10, at 10PM on NBC
BEAUTY AND THE BEAST
Don't let the photo fool you. every so often, pretty boy Vincent Keller (Jay Ryan) turns into a terrifying monster that, thankfully, also helps detective Catherine "Cat" Chandler (Kristin Kreuk) catch bad guys in New York City. "People are like, 'It's just a guy with a scar who looks like an underwear model,'" Jay tells Star. "I totally understand, but a full beast photo is our prized possession. We'll keep it for a rainy day."
Premieres Thursday, Oct. 11, at 9PM on the CW
EMILY OWENS, M.D.
"It's a really sweet show for girls… who want to do their homework." So says Emily Owens, M.D. star (and Meryl Streep's daughter) Mamie Gummer of her new show about a first-year intern whose hospital is just as cliquey as high school — right down to the very same mean girl (Aja Naomi King) who tortured her in her awkward years.
Premieres Tuesday, Oct. 16, at 9PM on The CW
Article continues below advertisement
MADE IN JERSEY
Martina (Janet Montgomery), a street-smart lawyer from the Garden State, impresses the boss (Kyle MacLachlan) at her new Manhattan law firm, but her snooty coworkers will take a little more work. You'd never guess, but this blue-collar Jersey girl is played by a Brit. "I'd never been to New Jersey, so I looked at the actors who are from there," Janet tells Star. "There's such a wide variety of accents, but I picked Mira Sorvino's."
Premieres Friday, Sept. 28, at 9PM on CBS