Fall Preview: New TV Comedies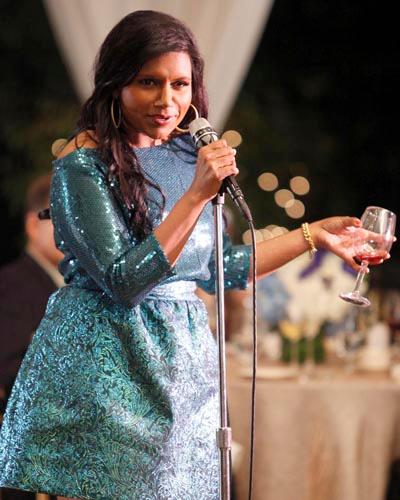 Star magazine brings you the scoop on the best of fall TV's newest comedies to keep you laughing this autumn!
THE MINDY PROJECT
The Office ex-pat Mindy Kaling creates and stars in her own show as Mindy Lahiri, a rom-com-obsessed obstetrician who wants to settle down with a nice guy but keeps sleeping with her bad boy coworker (Ed Weeks) instead. What's been the biggest transition from her days on The Office? "My mouth gets tired from acting so much!" Mindy tells Star. "I used to wait all day for my one Kelly line. Now I'm relieved in scenes where other people are talking. And I love to talk!"
Article continues below advertisement
Premieres Tuesday, Sept. 25, at 9:30PM on Fox
ANIMAL PRACTICE
Hotshot veterinarian George Coleman (Justin Kirk) loves animals, but he can't stand people. So you can imagine the awkwardness when his old flame Dorothy (Joanna Garcia Swisher) becomes his new boss on this wacky sitcom. For Joanna, working on a set filled with everything from pigs to peacocks was no big deal. "I'm a bit of a rescuer," she explains. "We have four dogs, and I still have a horse and a goat!"
Premieres Wednesday, Sept. 26, at 8PM on NBC
BEN AND KATE
Big brother Ben (Nat Faxon) is a free spirit. Little sister Kate (Dakota Johnson) is a control freak. But these odd-couple roommates are stuck with each other. Creator Dana Fox didn't have to look far for inspiration. "He was this Ferris Bueller–type guy," she says of her brother, who once microwaved a pillow for 10 minutes just to warm it. "I could write 100 episodes about him, because I never run out of stories."
Article continues below advertisement
Premieres Tuesday, Sept. 25, at 8:30PM on Fox
GO ON
Think of it as Community goes to therapy when widowed sports talk-radio host Ryan King (Matthew Perry) must attend grief counseling before he can get back on the air. Once there, he'll grapple with his feelings and a bunch of wacky eccentrics. Matthew's last sitcom, which he cocreated and produced, may have crashed and burned, but you won't hear him complaining. "I was in charge of that show, and it was way too much work," he explains. "Now I'm just an actor again — and it's nice."
Premieres Tuesday, Sept. 11, at 9PM on NBC
THE NEW NORMAL
When baby-hungry gay couple Bryan (Andrew Rannells) and David (Justin Bartha) hire down-on- her-luck Goldie (Georgia King) to be their surrogate, they get more than they bargained for. Namely, Goldie's bigoted grandmother (Ellen Barkin), who isn't exactly a fan of alternative lifestyles. While Justin himself is straight, playing this character has opened his eyes to some advantages of playing for the other team. "Give it a few episodes. You never know. I want to double my wardrobe."
Article continues below advertisement
Premieres Tuesday, Sept. 11, at 9:30PM on NBC
MALIBU COUNTRY
When her country music star husband gets caught cheating, reba (Reba McEntire) files for divorce, packs up the kids and moves to his secret love nest in California. Luckily, Reba has loyal/sassy mom Lillie Mae (Lily Tomlin) to help her make the adjustment. "She's brilliant," says Reba of the real-life Lily. "I've seen her on Broadway, watched all her movies, saw her on Laugh-In. Getting to work with her is a dream come true."
Premieres Friday, Nov. 2, at 8:30PM on ABC
PARTNERS
Who better to tell the story of best friends and business partners — one impulsive and gay (Michael Urie), the other cerebral and straight (David Krumholtz) — than Max Mutchnick and David Kohan, the real-life pals who created Will & Grace? "I can't imagine a better role," says Ugly Betty vet Michael, who looks forward to shattering some stereotypes. "Most of my straight guy friends are...going to see musicals. I enjoy going to football games. I don't necessarily know who's playing or all the rules, but..."
Premieres Monday, Sept. 24, at 8:30PM on CBS